Cavo Maris Beach Hotel ****
95 Amathus Avenue, Agios Tychon 4533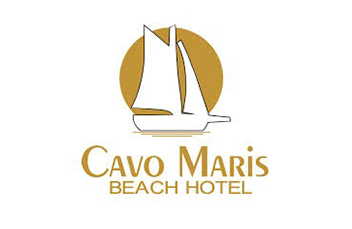 A multi-awarded, popular beach hotel, in a privileged, unspoiled and quiet, seafront location in Protaras.
It is nicely positioned, surrounded by palm trees, amongst extensive grass lawns and beautiful well-kept gardens which run down to a safe beach with fine golden sand and blue crystal clear sea water. The beach has been awarded the blue flag.
The whole concept is designed to give the spacious country side feeling although walking distance from the centre of the resort.
Within 2 minutes walk, there are 2 more, smaller but beautiful, sandy beaches. The Famous 'Fig Tree Bay' beach, at the Resort centre, is about 1.5 km down the road (15 minutes walk).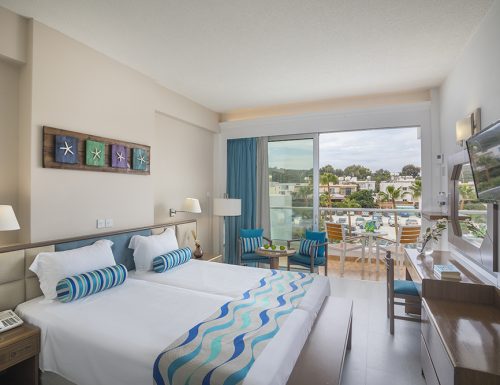 Double/Twin Rooms
With a total of 207 Double/Twin rooms are perfectly suited for couples, families with young children and for single occupancy. These rooms can easily accommodate a cot and/or extra bed. Some Double/Twins rooms come with bunk beds or camp beds for families with one or two small children. A maximum of three adults can also be accommodated in this room type. A number of interconnecting rooms are also available and can be requested to be booked. The request cannot be guaranteed as it is "subject to availability".
Family Rooms
Our Family Rooms can easily accommodate up to 4 people (adults or children), with 1 double bed and 2 single beds With a wider shape, this room type provides all the space you need and they are ideal for families with grown up or growing children. Most Family Rooms have a larger balcony so you can all sit comfortably outside with a drink and enjoy our spectacular views. There are 24 Family rooms available, 15 with side sea view and 9 with sea view.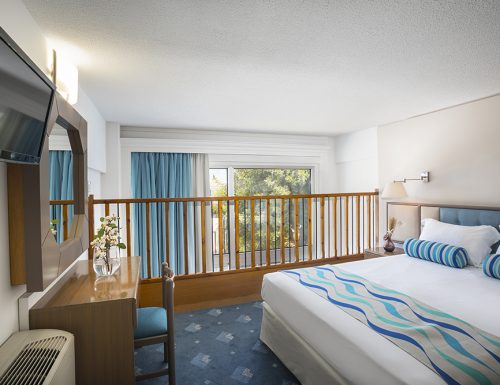 Mezzanine Family Room
For extended families or small groups of friends that wish to stay together, our Mezzanine Family Rooms are the perfect choice. Split-level by design with warm wooden furnishing, this accommodation consists of two separate sleeping areas. On the upstairs gallery there is the main bed room with a double bed and bathroom. Downstairs there is a large bedroom/living area with twin beds. With so much space, there is no fear of bumping into each other even if you need an extra bed in there to take the occupancy up to 5. The children are perfectly safe downstairs in front of their television giving you the chance to relax upstairs.
Premier Sea View Family Room
For those that enjoy staying in more sophisticated surroundings, then a Premier Family Room is definitely the room for you. A small lounge area with sofa beds is connected (with closing door for extra privacy) to the main bedroom and the bathroom. With two (2) beds and space for an extra bed so a family of 5 can be comfortably accommodated. What differentiates these rooms from the rest, is the breath-taking view from the balcony. The green beautiful hotel gardens that include exotic palm trees and the crystal clear blue Mediterranean Sea that stretches out almost at hand reach in front of you.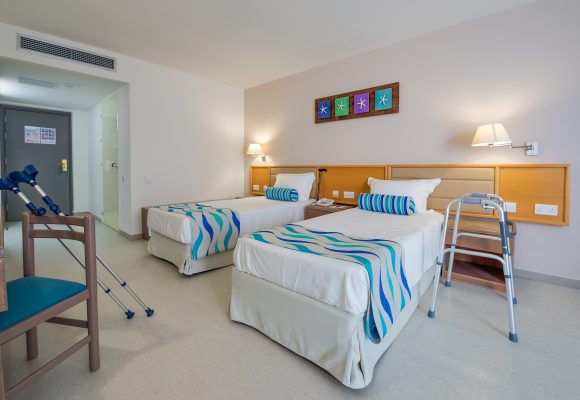 Disabled Rooms
There are 3 disabled rooms specifically designed for our guests with walking disabilities or who are confined to a wheelchair. All facilities and amenities are easily accessible with light switches, door handles and clothes rail situated lower down. There is plenty of space on either side of the bed for a wheel chair to easily move anywhere in the room and right out onto the very spacious balcony to enjoy the view. The bathroom is equipped with handle bars for your added safety and has a walk-in shower with shower curtain so the wheel chair can be placed right under the shower if need be.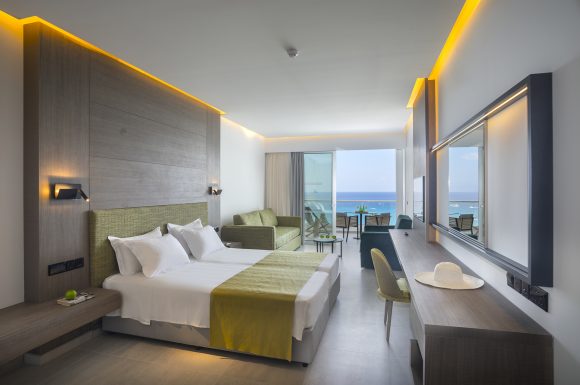 Elite Family Suites
13"Elite" 5th Floor Family suites, sea view and side sea view of varying sizes to accommodate couples and families from 2 persons up to 5 persons. Each suite is spaciously and stylishly designed with double or twin bed stands with extra sofa beds and all with balconies that have breathtaking views of the Protaras coastline.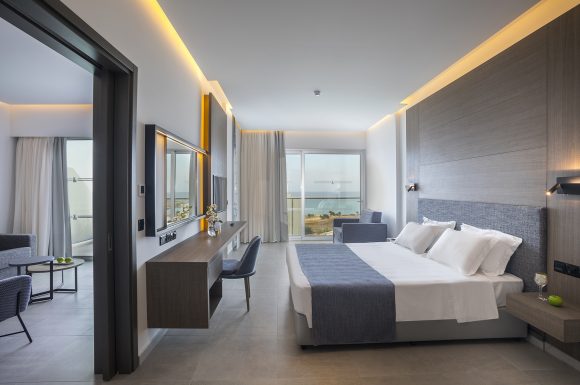 Elite Executive Family Suites
8 one bedroom "Elite" 5th Floor Executive suites with side sea views, varying sizes to accommodate couples and families from 2 persons up to 4 persons. Each suite is stylishly designed and has a spacious bedroom (with double or twin beds) and separate lounge/living area with large sofa bed. All with balconies that have a bird's eye view of the breathtaking Protaras coastline.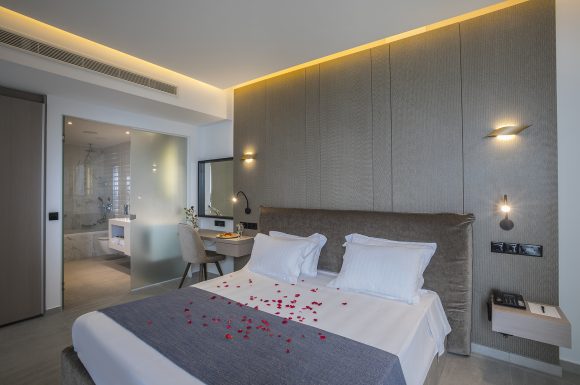 Elite Honeymoon Suites – Aphrodite & Cleopatra
2 "Elite" 5th Floor Honeymoon suites with side sea view/pool view and an exclusive balcony with Jacuzzi. Perfect for couples on Honeymoon or simply treating themselves to an extra special holiday experience. Each suite is stylishly designed and has a spacious bedroom (with double bed and en suite bathroom) and separate lounge/living area with a large sofa bed.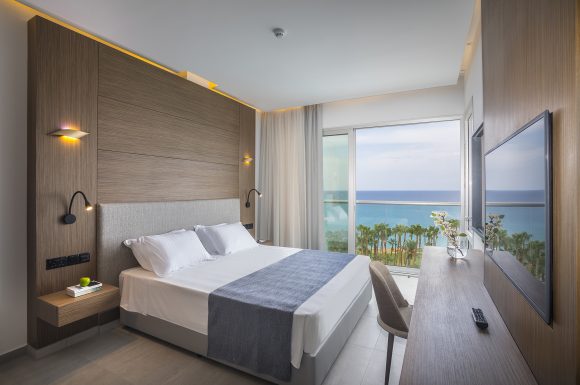 Elite Superior Executive Family Suites – Iris, Athena & Hera
3 "Elite" 5th Floor Superior Executive sea view suites are truly a home away from home. Varying sizes (1 one-bedroom and 2 two-bedroom) to accommodate couples and families from 2 persons up to 6 persons. Each suite has separate lounge/living room with balcony with Jacuzzi, kitchenette equipped with ceramic hob and breakfast bench and in the case of the two bedroom suites there is also a separate private dining/conference room. Each suite has amazing panoramic views of the sea and the Protaras coastline.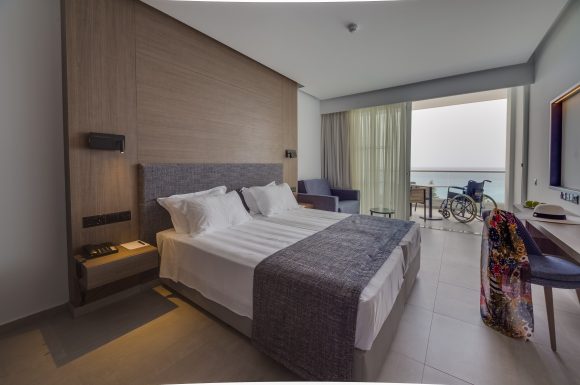 Elite Disabled Facility Suites
5 adapted facility "Elite" 5th Floor suites with both sea view and side sea views, varying sizes to accommodate couples and families from 2 persons up to 4 persons. All suites are specifically designed for our guests who are wheelchair users or who have mobility difficulties. All amenities are easily accessible with light switches, door handles and open wardrobes. Each suite is spaciously designed with double or twin beds (some with extra sofa beds) and all with balconies that have breathtaking views of the Protaras coastline.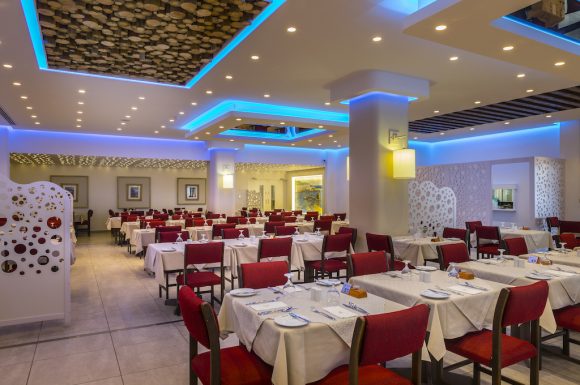 Alkion Restaurant
Our tasty and inviting rich buffets with a rotation of 14 nights in the "Alkion" Restaurant, together with our lovely "live cooking" section will always spoil you for choice and certainly you will never leave our Restaurant with empty corners in your stomach.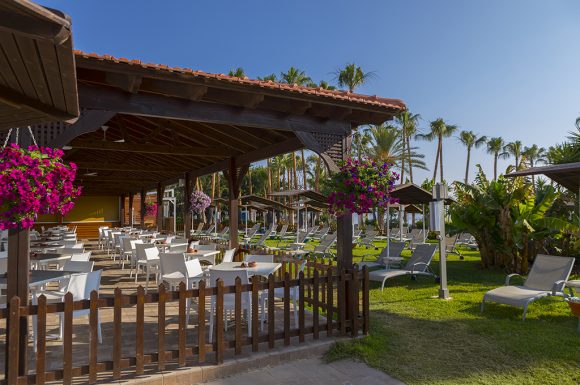 Sirena Restaurant
An ideal place for a casual lunch with refreshing drinks by the pool, where the atmosphere is relaxed. Tasty local specialities are served in the form of meals, snacks and take-away can be enjoyed at the Sirena Restaurant.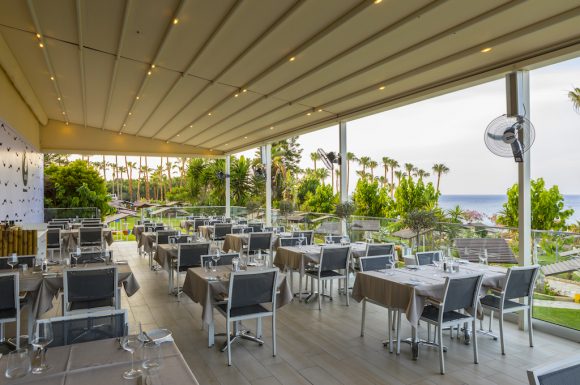 Argo Mediterranean Restaurant
Enjoy a la carte dining at lunch and dinner. The Argo A la Carte Restaurant is the ideal place to enjoy delicious Mediterranean cuisine. It's location is also a little more secluded overlooking our lovely gardens and with views out to the sea.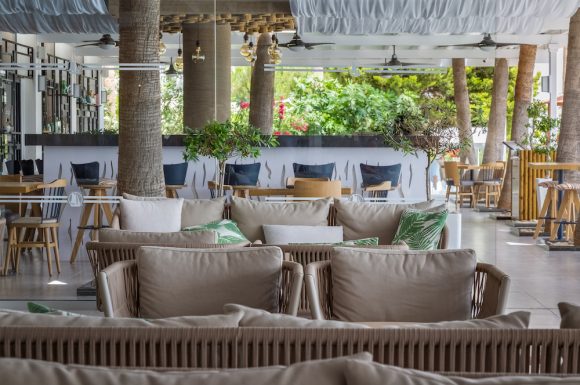 Stonegrill Restaurant
Introducing the hottest concept in dining. It is an exciting interactive dining experience that presents your meal cooking on a heated stone at your table. This unique method sears in all natural juices and nutrients, enhancing the full flavour and tenderness of your meal.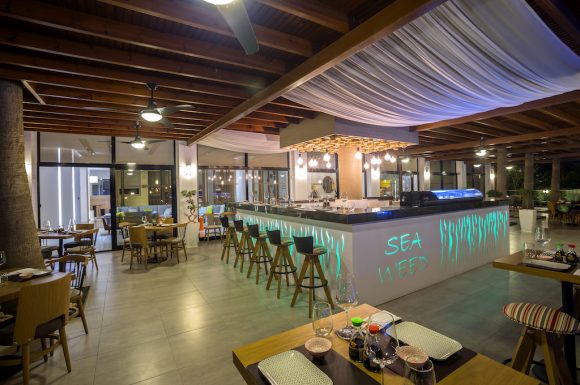 Seaweed Sushi Bar
Explore the taste of the East and watch as our Sushi Chefs prepare a luscious combination of delightful texture and subtle flavours perfected in the art of Japanese cooking.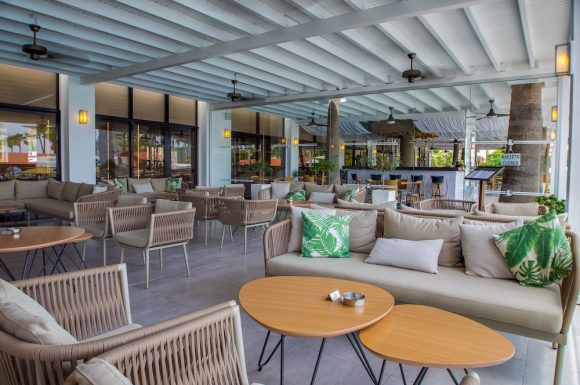 Coral Bar
Our classy and comfortable "Coral Bar" situated next to the lobby, is open all day long from the morning through to the early hours. With our huge selection of alcoholic and non-alcoholic drinks, we shall definitely have one or more drinks to meet your own taste.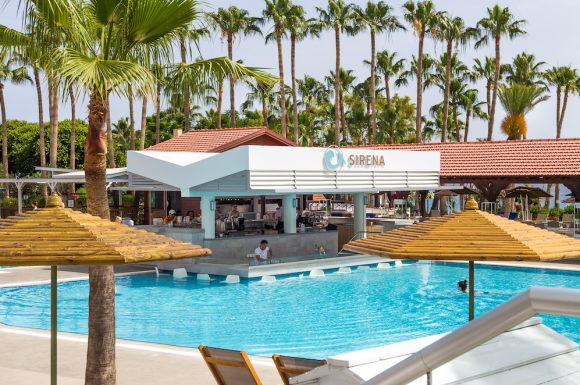 Sirena Pool Bar
With our extensive drinks menu, there is a long drink, a cocktail or a refreshment for everyone to quench your thirst. Try also a freshly squeezed Orange juice, a refreshing healthy "Smoothie", a Popsicle or even a tempting Ice lolly.
To Kafeneion
Take a walk through our Traditional Cyprus "Recreation Area" (in the form of a small Forest with Cyprus typical village touches).
Get a feeling of Paradise with an ouzo with meze or/and taste our very own Cyprus Traditional Sweets with a cup of Cyprus Coffee at "To Kafeneion".
You are probably aware of the health and well-being (wellness)? benefits of using steam bath, sauna and indoor pool which will cleanse the skin, stimulate circulation, boost your immune system, encourage healing of body and mind, help ease muscular and rheumatic pain, relax, soothe and detoxify. You deserve to immerse yourself in the beauty of our thermal facilities which are yours for the day and let your stress just melt away.