Royal Apollonia *****
95 Amathus Avenue, Agios Tychon 4533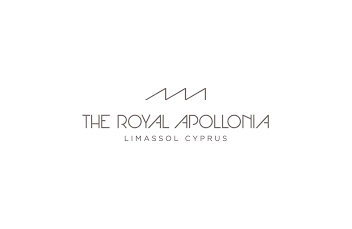 The Royal Apollonia is an elegant five-star hotel were luxury and comfort make a perfect match. Features 204 completely refurbished bedrooms including 13 suites, an 523m² outside swimming pool and 3 restaurants, with different culinary cuisine, Dionysos main buffet restaurant, Akakiko easy Japanese Fusion and a Greek restaurant "Meze by Elliniko".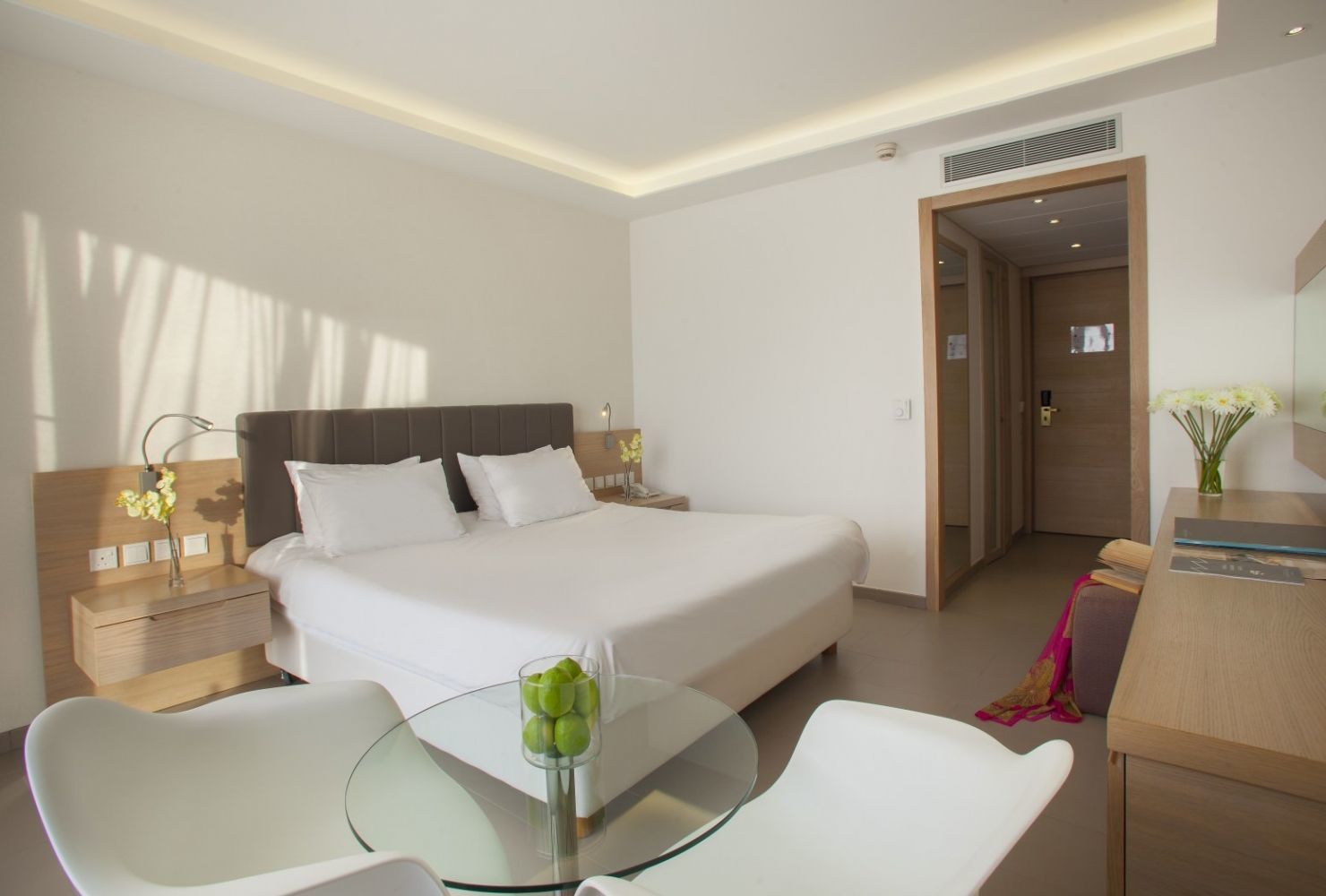 Superior Inland View Room
Our stylish Inland View Hotel rooms feature all the standard amenities that the St Raphael Resort is renowned for. Our Inland View rooms are located on the north side of the main building, and are ideal and popular for couples, individuals and large families. Inland view rooms feature a spacious work area, free high speed WiFi Internet access, a cosy reading nook, seating area, and provide a 26" flat screen satellite TV for in room entertainment. Available in double or twin bed configurations, these inviting rooms are designed to provide a truly relaxing getaway.
Superior Sea View Room
Upgrade to one of our sea facing rooms and enjoy unrivaled views. These elegant superior rooms offer a fresh modern interior and a private balcony with table and chairs. They are bright and spacious and can accommodate up to 3 guests. Enjoy top-notch amenities and world-class services during your stay in Limassol.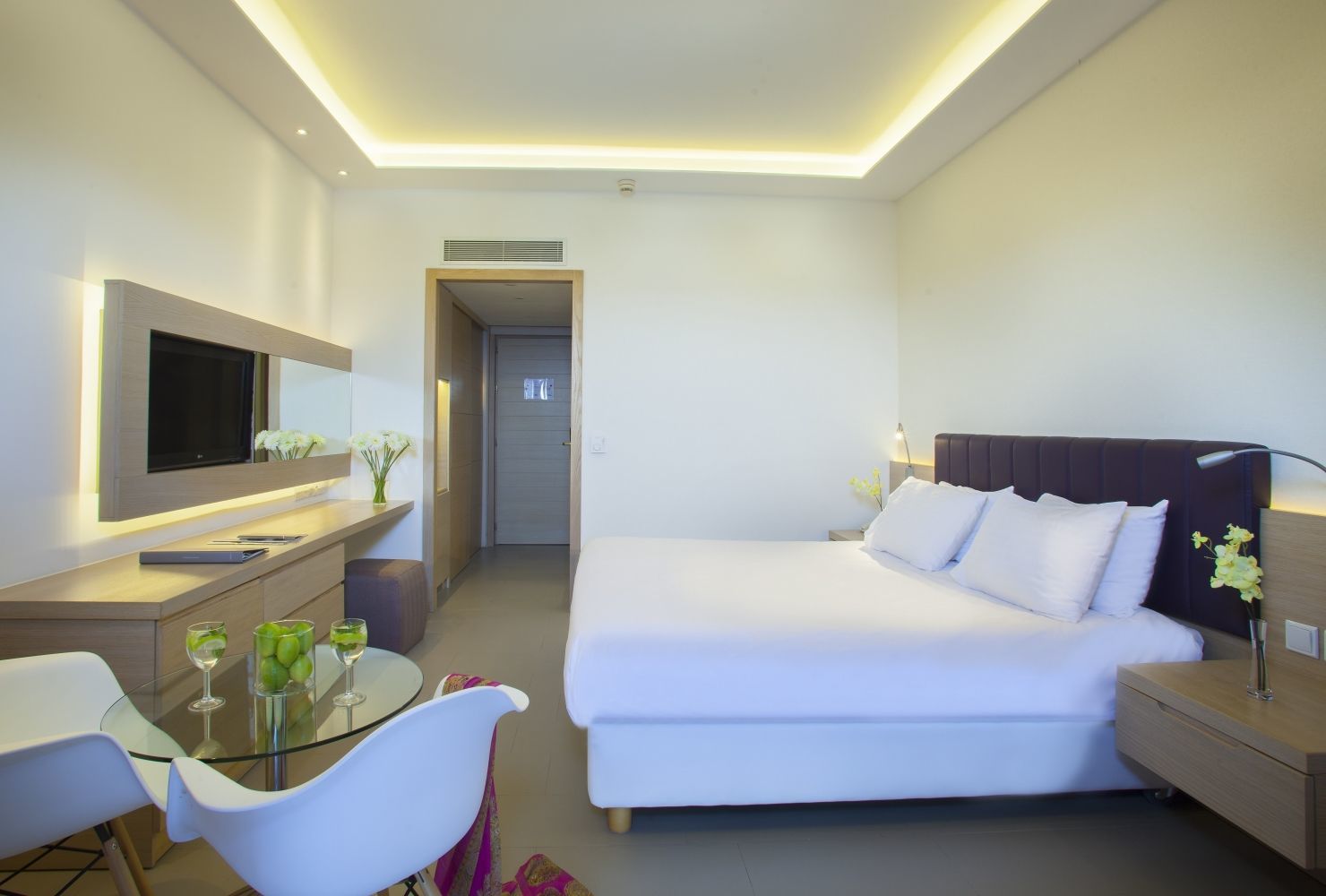 Four-bedded Room Inland View
Ideal for a young family of four, these extra large rooms with cool ceramic floors are designed to accommodate up to 4 people and can provide the comfort of the additional space. These elegant rooms offer splendid inland views from your private balcony with table and chairs.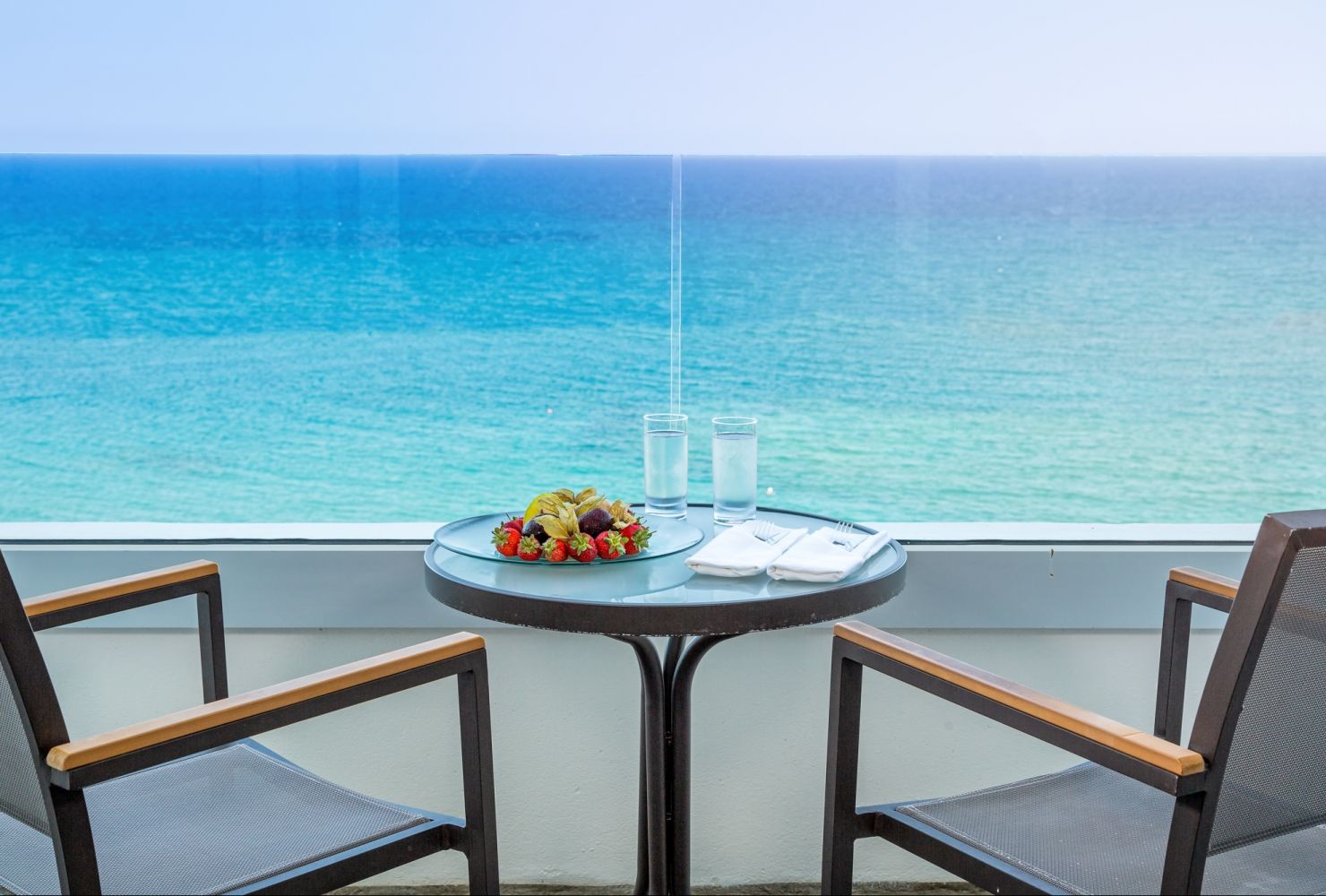 Four-bedded Room Sea View
Ideal for a young family of four, these extra large rooms with cool ceramic floors are designed to accommodate up to 4 people and can provide the comfort of the additional space. Our sea facing rooms offer unrivaled views from your private balcony with tables and chairs.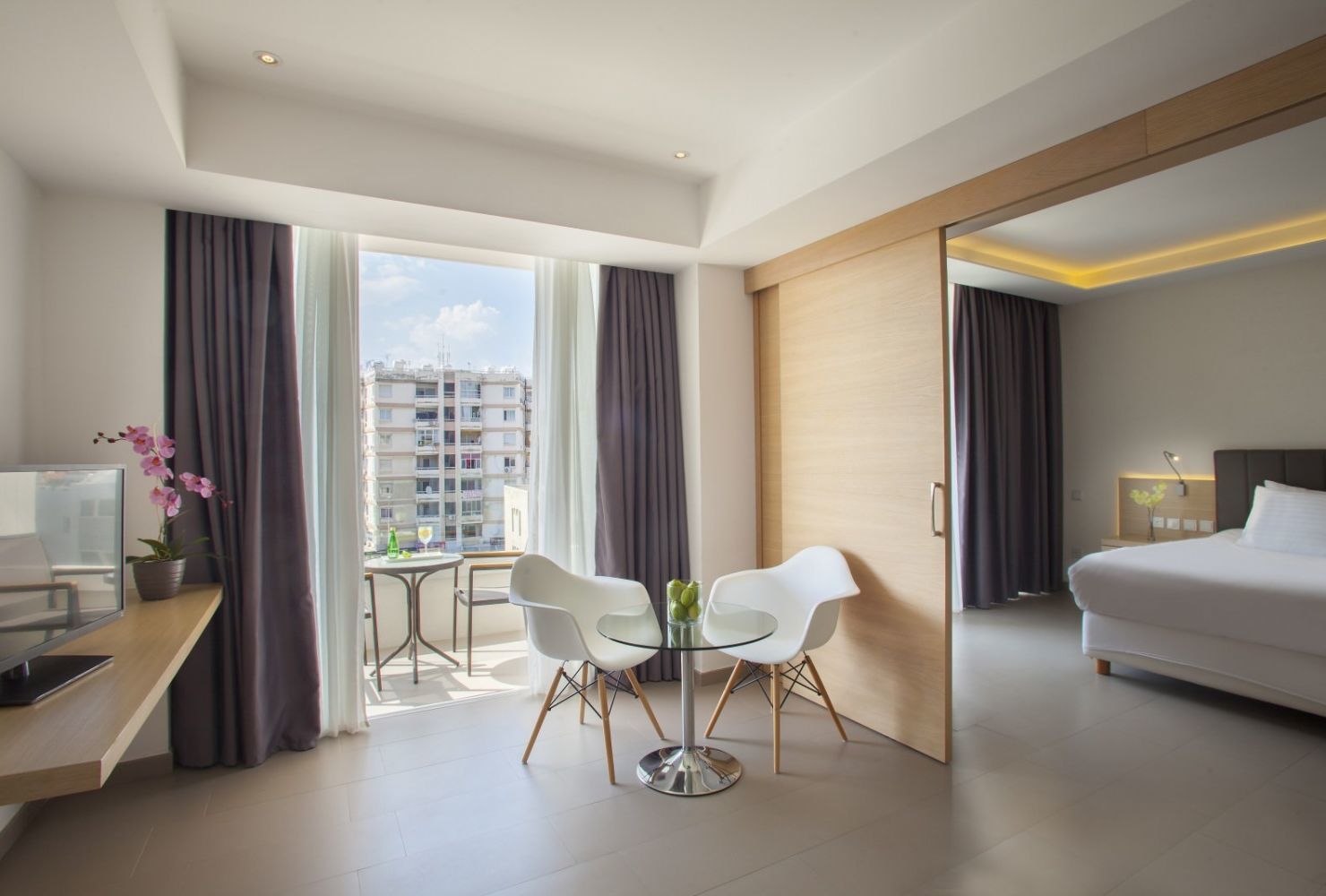 Junior Suite
Our Junior Suites comprise a spacious bedroom and a lounge with sofa bed making them ideal for families or small groups. Both rooms open onto a balcony with splendid mountain views. Enjoy plenty of space, a bright and elegant interior, and luxury amenities.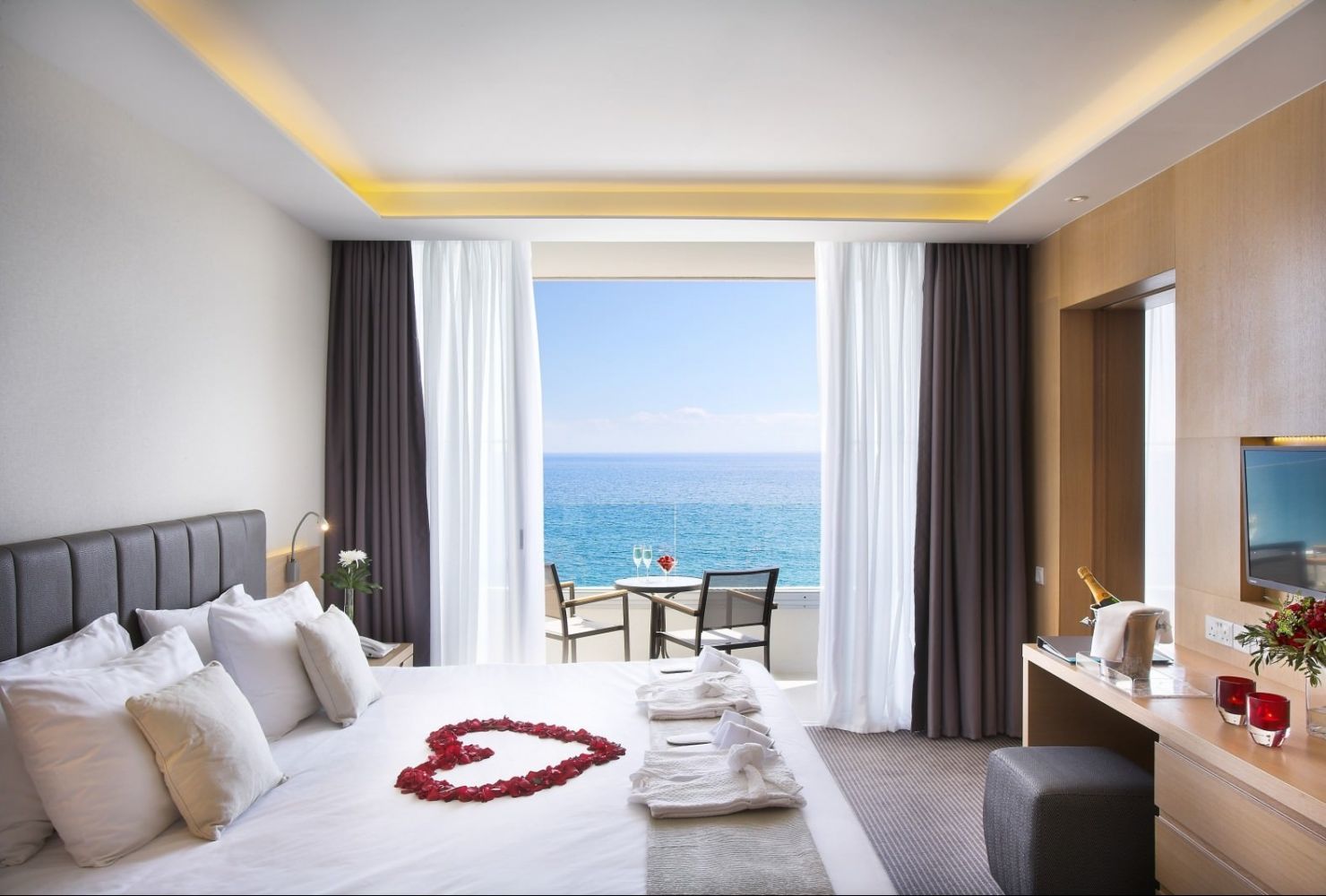 Honeymoon Suite Sea View
Enjoy a wonderful setting with splendid open sea views for your romantic getaway. Our lavish honeymoon suite offers the ultimate in comfort and luxury. It comprises a private balcony, a separate bedroom, a large open plan living room, plush carpeting throughout, and a spacious bathroom with double washbasin, branded toiletries and Jacuzzi bathtub.
Executive Suite Sea View
These elegant and stylishly decorated Executive suites comprise a master bedroom with full en suite facilities and Jacuzzi bathtub, and a generous lounge with sofa bed and private bathroom. These lavish rooms, lead onto fully equipped balcony with stunning sea views.
For even more space these Executive suites can be connected with a Superior room.
Deluxe Suite Sea View
The largest suites in the hotel spell deluxe and comfort and can accommodate up to 4 guests. These luxurious suites with inland view comprise a spacious master bedroom with private bathroom featuring a Jacuzzi bath and separate walk in shower, and a sea facing lounge with double sofa bed and dining area. A second bathroom with rain shower and a separate guest toilet are also available. For even more space these Deluxe suites can be connected with a Superior sea view room.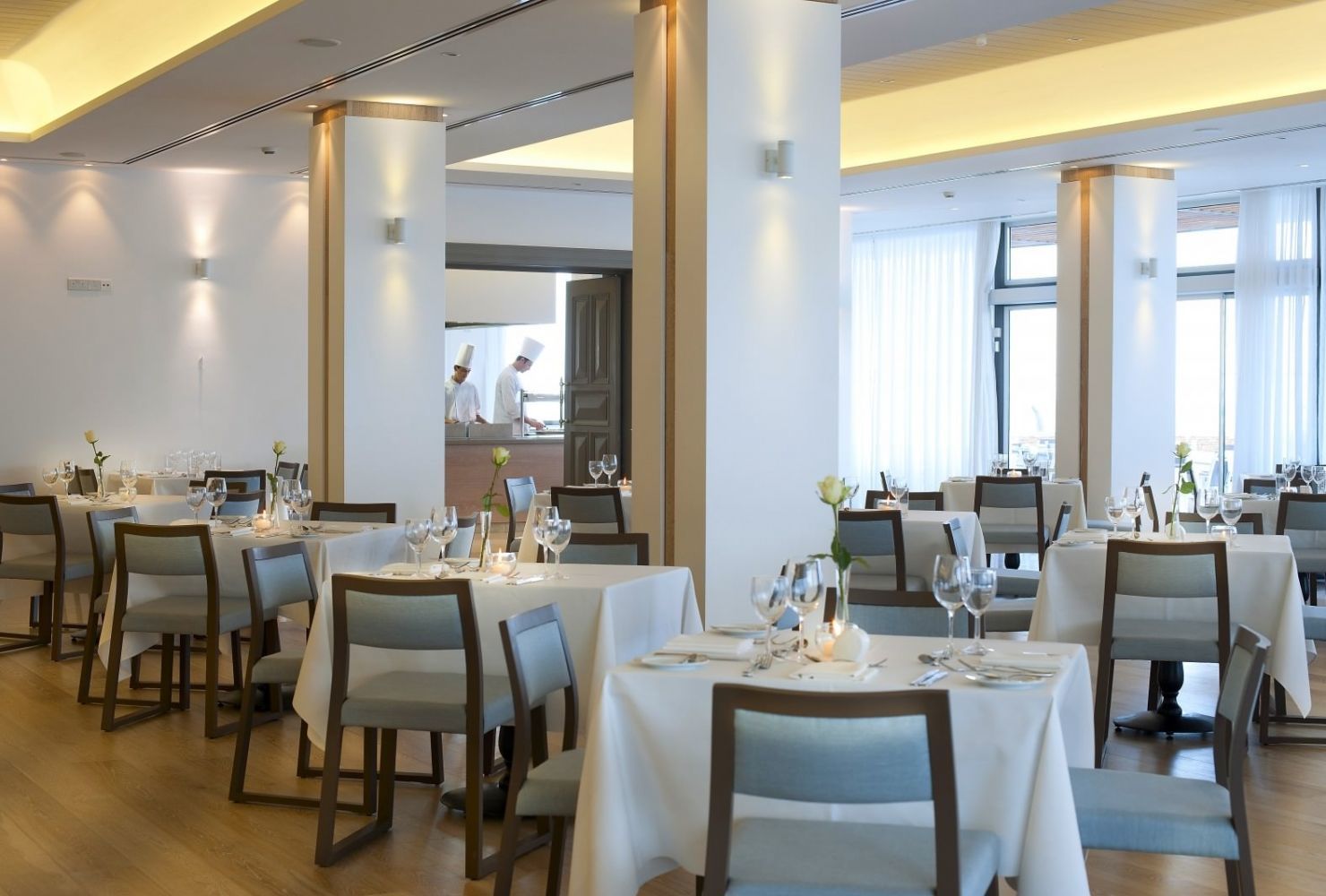 dionysos restaurant
Our main restaurant leads onto a large sunny terrace with panoramic sea views that create a wonderfully relaxing setting. Enjoy colourful and generous buffets, live cooking, and Greek and international specialties. The Dionysos restaurant is open every day for breakfast, lunch and dinner.
Daily buffets with seven different themes per week, such as Local, Ιnternational, Italian, Mexican, Gourmet, Mediterranean and Carvery.
akakiko japanese
Our Japanese restaurant, one of the most popular restaurants in Limassol combines authentic and delicious Asian cuisine, top quality service and value for money. The panoramic views of the sea, afforded by the covered patio, blends elegantly with the minimalistic decor creating a welcoming and intimate atmosphere.
meze by elliniko
The doors of Meze by Elliniko restaurant opened in 2017 since then we have been bringing authentic traditional Greek cuisine to all of The Royal Apollonia guests.
Here at "Meze by Elliniko" you can enjoy the flavors of traditional Greek dishes prepared with the finest ingredients whilst feeling the breeze from the Mediterranean Sea at its lovely terrace.
A Greek medley of aromas, flavors, colors and textures will entice your senses and create a unique gastronomical experience.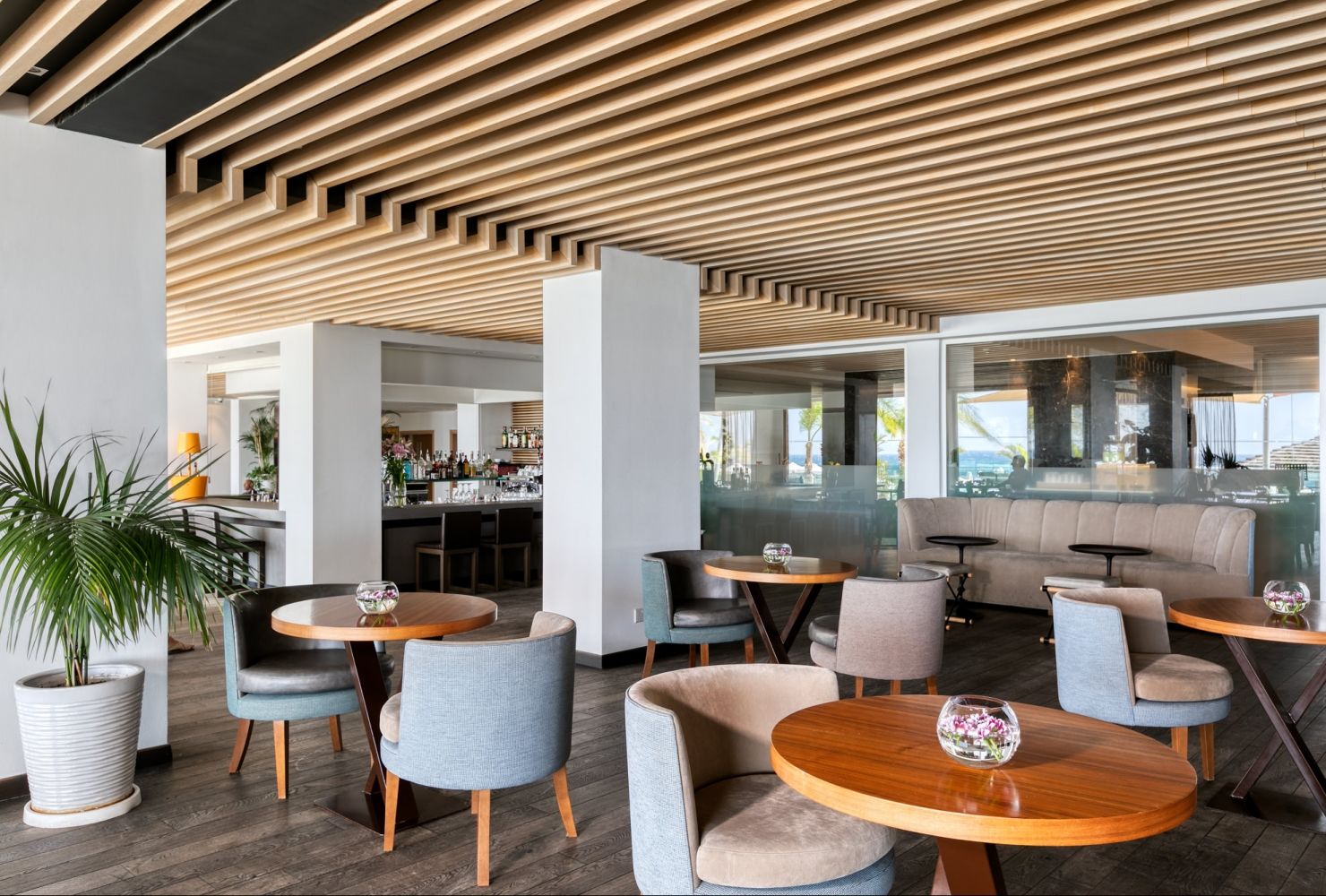 aphrodite lounge & bar
Open to residents and non-residents, the Aphrodite lounge is a favourite meeting place in Limassol. The large and well-appointed terrace boasts breath-taking sea views and instills a feeling of calm and peacefulness. We are open throughout the day and offer the ideal setting from early morning coffee through to cocktails.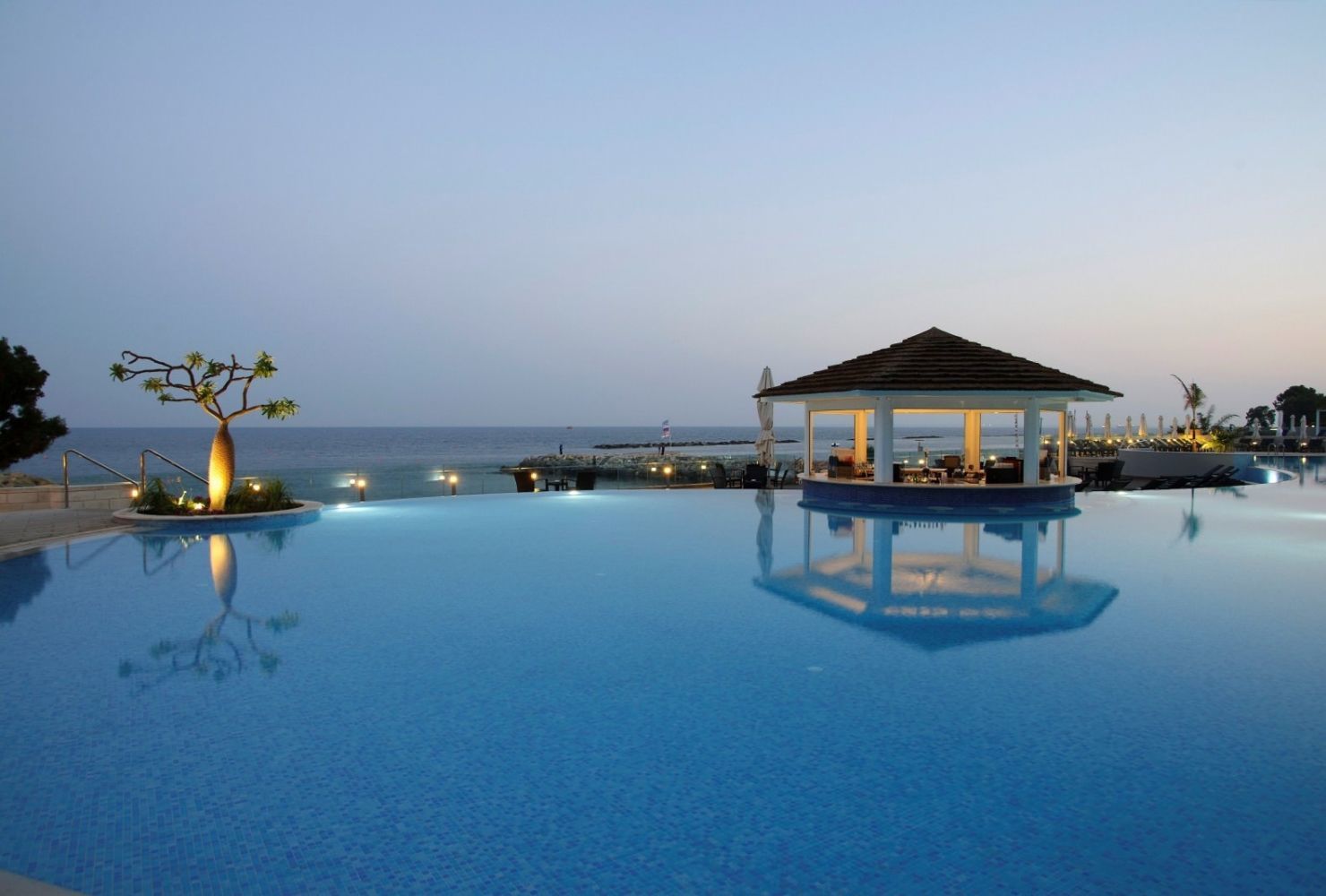 ocean blue bar
The Ocean Blue Bar stands just steps from the crystal clear waters of the Mediterranean Sea and within our large island-shaped pool, offering the perfect setting from drinks and cocktails.