Parklane Resort *****
95 Amathus Avenue, Agios Tychon 4533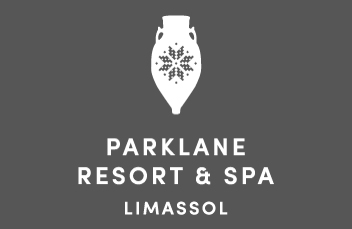 Ideally positioned along the southern coastal strip of Cyprus with easy access to Limassol city, Parklane is re-imagined as a beach-side, lifestyle destination. Radiating across carefully-crafted landscape, it is the only upscale international brand with elevated offerings for business and leisure. Our accommodations are diverse, from family-friendly to adult-only, with a choice of rooms and suites some including private pools. Three vast pools are populated by cabanas, sun loungers and poolside dining. Housing five distinct restaurants and two bars, unmatched meeting facilities, Park Kidz club, the Kalloni SPA and 300-meter sandy beach. Parklane is a multidimensional setting, redefining the art of living while retaining historic resonance of the island.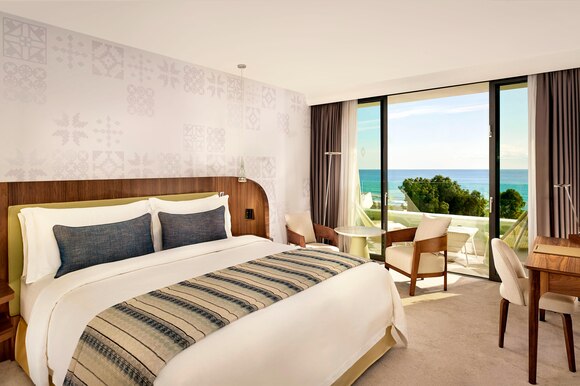 Superior Room
Ideal for two guests with room for a cot, the Superior Sea View guestrooms are fitted with floor-to-ceiling windows leading to an outdoor terrace with seating. Comfortably appointed with either King or Twin beds, each room has been Cypriot-inspired, with Lefkara lace patterns through its furnishings. Light wood and subtle colors add to the overall stylish feel of the rooms, while contemporary technology includes the 55" Samsung TV or the JBL speakers. Each room includes en-suite bathroom with either bathtub or separate walk-in, rainfall shower, alongside luxurious products and comfy bathrobes. Adjoining suite options available.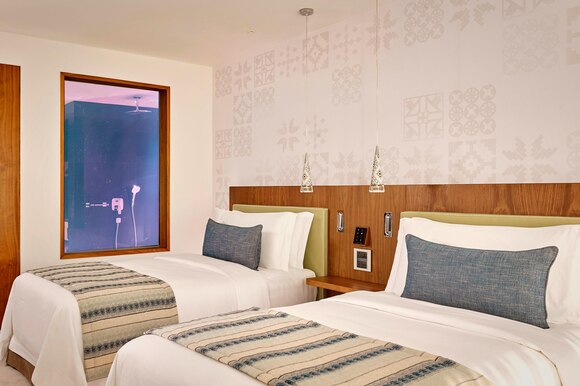 Superior Chromotherapy Room
Overlooking the beach and landscaped gardens, the Superior Sea View with Chromotherapy Room accommodates two guests. Furnished with either King or Twin beds, a private terrace and state-of-the-art chromotherapy window. Based on the healing properties of color, the glass emulates the spectrum of the rainbow and can be programmed to reflect individual mood. Interiors are modern with subtle Lefkara lace patterning against light wood fixtures and contemporary technology. The en-suite bathroom includes a walk-in rainfall shower, twin basins and luxury products. The option for an interconnecting room offers enhanced living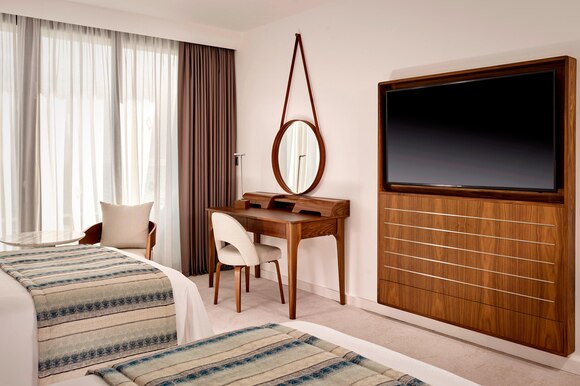 Deluxe Sea View Room
With exceptional views across the resort and beach, Deluxe Sea View rooms offer an enriching stay. Honoring a Mediterranean panorama, floor-to-ceiling doors open to private outdoor terraces with restful seating. With a King or Twin beds and sofa bed, rooms can accommodate two adults and one child. Opting for an interconnecting Deluxe Sea View room, caters for three more guests. Interiors pay homage to the island's affiliation with Lefkara lace patterning, subtly reinterpreted in the decor. Each en-suite includes a bathtub or separate walk-in rainfall shower, twin basins and upscale amenities.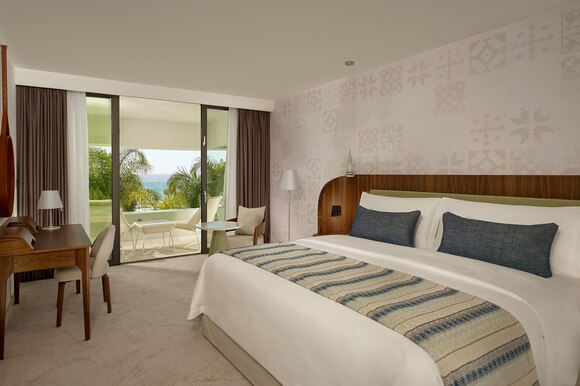 Family Suite
A generous 72 m2, the Family Suite Sea View comfortably accommodates up to five guests – three adults, two children. Simply and beautifully adorned in subtle colors and intricate Cyprus-inspired patterns, each suite is furnished with a King-size bed in the master bedroom. The second guestroom's Twin bed is enclosed within the living room, also with two single sofa beds. Sea views from the outdoor terrace are ideal for relaxing against a backdrop of the beach and landscaped gardens. En-suites boast a bathtub and walk-in rainfall shower, twin basins, luxury bathroom products and fluffy bathrobes.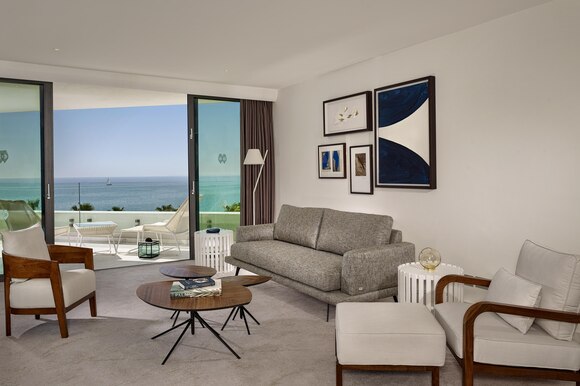 Panoramic
With up to 100 m2 floorspace, the Panoramic Suite with sea view is an enriching choice for up to three guests and optimal for families with an optional interconnecting Deluxe Sea view Twin room. The suite is styled with local Cypriot detailing, soft furnishings, and contemporary color palette. Spaces are naturally lit by floor-to-ceiling doors opening onto sea-facing balconies. Lounge and dining areas are equipped with latest technology, from key-less entry, large-screen Smart TV and JBL speakers. The en-suite bathroom includes bathtub, walk-in rainfall shower, twin basins and select products.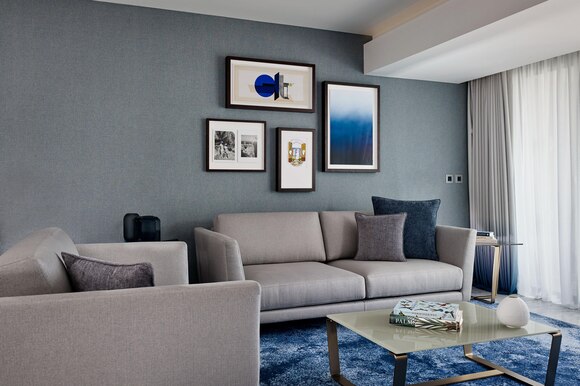 Lifestyle Suite
An elevated choice, The Lifestyle wing is a sophisticated, adult-only setting with 16 spacious sea view suites. The Lifestyle Suite is perfect two guests with a sizable footprint of 115 m2. All fitted with the latest technology, King bed, and sleek design of minimalist lines. In subtle hues of grays and blues, living rooms lead to a walk-on balcony with panoramic views of the beach. The en-suite is appointed with free-standing egg-bathtub, walk-in rainfall shower, twin basins and luxury amenities. The wing adjoins the Lifestyle pool with a rarefied atmosphere of the resort in a quieter setting.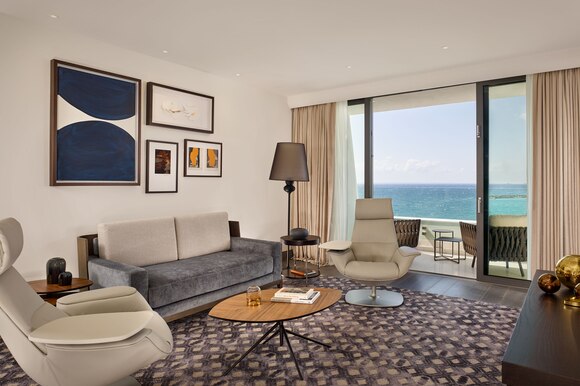 The Business Suite
In The Lifestyle Wing of the resort, The Business Suite Sea View is uniquely styled to accommodate up to two guests. Two interconnecting walk-out balconies and sleek, minimalist interiors reflect colors and geometric patterning of the island within the suite. An expansive bedroom is styled with a signature The Luxury Collection King-size bed and slick, open-plan en-suite bathroom with rainfall shower. The living area boasts a stately work desk, sofa and chairs. Equipped with ultra-modern technology, from key-less entry, smart TV, JBL speaker system and the use of Samsung Flip, upon request.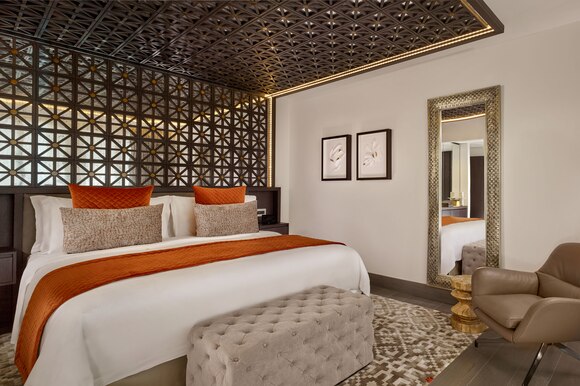 The Amphora Suite
Paying homage to the ancient alabaster amphora that held perfumes – from the nearby village, Pyrgos – The Amphora Suite Sea View with private pool and sauna has been aptly named. A suite designed to honor the uniqueness of the island with soft color hues and modernized Cypriot patterning. Ideal for up to two guests, with 214 m2 of living space including a bar with seating, lounge, and dining areas that lead to a sea-facing balcony and a separate bedroom with King-size bed. An en-suite marbled bathroom houses an egg bathtub and walk-in rainfall shower. An interconnecting option with a Superior Sea View with Chromotherapy Twin Room accommodates two additional guests.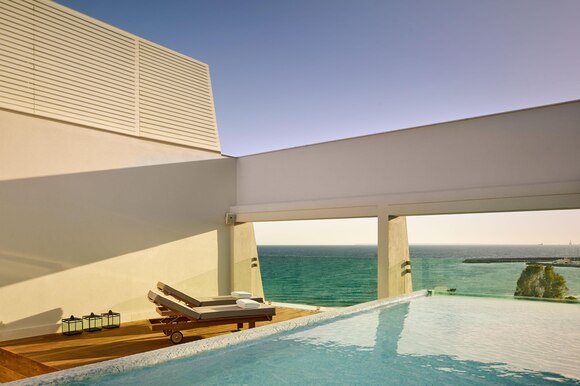 The Diamond Suite
Located on the 5th floor, this large suite accommodates two guests with over 335 m2. With custom-made soft furnishings, large dining room, living area, and a kitchenette. The master bedroom has a walk-in wardrobe and adjoining study. The marble-clad en-suite bathroom is fitted with Jacuzzi bath, and walk-in rainfall shower. Technology includes two smart TVs at 55" and 65", key-less entry and JBL speaker system. On the sea-facing terrace, sun loungers and al fresco seating align the private pool. The private workout space includes a steam room and sauna. There's also a second veranda with a corner sofa and dining table with seating for ten. Options available for adjoining suites.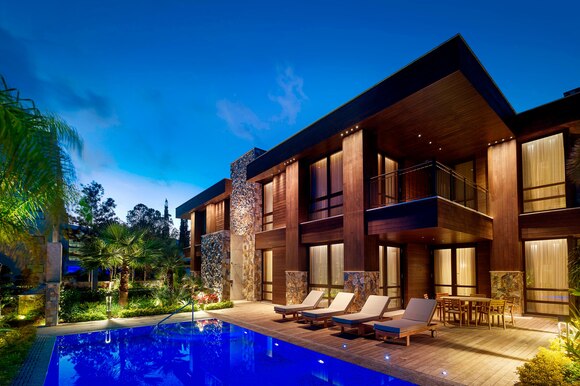 Park Villa
Ample in size, the Park Suite Three-Bedroom Park View with Private Pool offers spacious living for up to six people. Direct poolside access from the downstairs guestroom, with King-size bed and en-suite bathroom, opens onto the wrap-around deck with lush garden views. Sleek and elegant, the two upstairs bedrooms – one King-size, the other Twin – are appointed with signature The Luxury Collection beds and open onto a resort-facing terrace with comfortable furniture. The master bedroom's walk-in wardrobe leads to a chic en-suite bathroom featuring an egg bathtub. The adjacent guestroom en-suite includes a walk-in rainfall shower.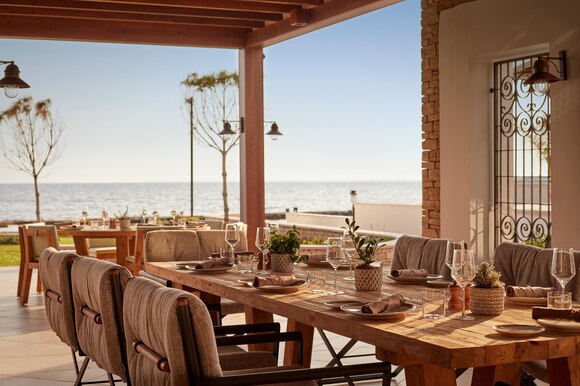 Dafne
With a menu that showcases the essence of Cypriot cuisine, Dafne serves classic dishes, presented with modern flair. A lunchtime menu of fresh salads and light dishes evolves to include hearty evening fare, crafted in the theater kitchen's wood-burning oven or barbeque pit. Local delicacies, like lamb kleftiko and potatoes cooked in tahini, are complemented by an inspired wine list that features regional labels, alongside international favorites.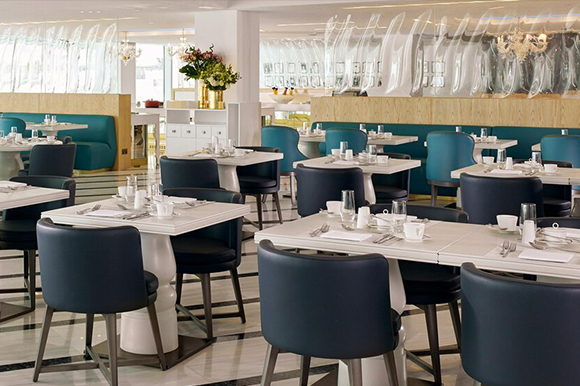 Lanes
Generously-sized, Lanes sets the scene for plentiful breakfasts and casual dinners. By morning, guests gather to enjoy the extensive buffet, featuring international favorites and inspired local options. The Juice Bar, with its 'smoothie of the day', offers healthy temptation, whilst the weekly Sunday Champagne Brunch is an indulgent draw. By evening, the ambiance shifts to accommodate chic, laid-back dining, with daily local dishes. The large communal table is a prime scene for social get-togethers and Chef's Table events, whilst the extensive wine wall hints at the venue's impressive selection of vintages.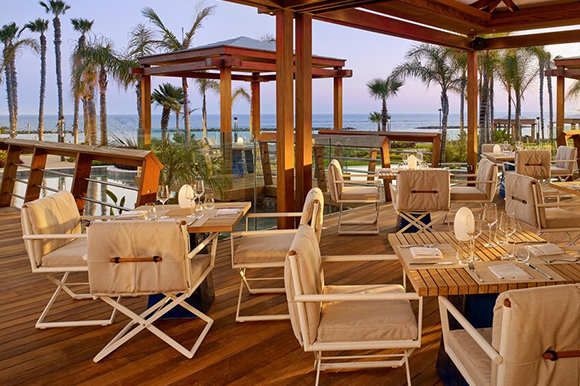 Islands
Intimate and exclusive, Islands is where chic meets informal, reflecting Parklane's inimitable approach to elevated living. A celebration of all-things seafood, locally-sourced fresh fish, such as grouper from Kos and red mullet from Rhodes, make regular appearances on the ever-changing menu. A thoughtful selection of fine wines have been curated to suit every dish, palate and occasion.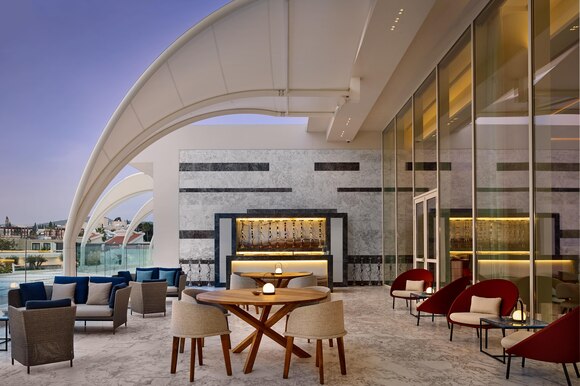 The Gallery - Sushi Bar
Living up to its name, this ground-floor lounge bar looks out into the gardens and beyond, to the azure blue sea. Whether for a quick meeting, a lazy morning reading a book, or an enjoyable afternoon with the entire family, the Gallery will keep everyone satisfied with a large variety of snacks and desserts, and a signature afternoon tea.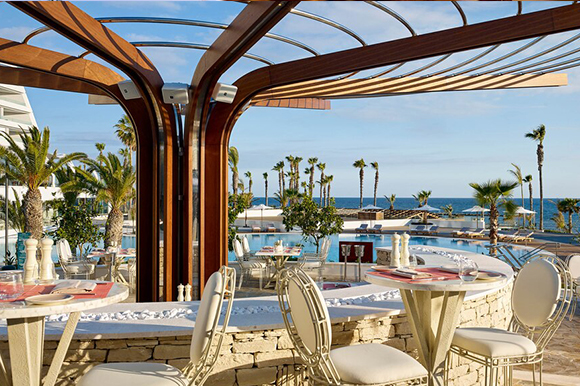 Il Teatro
Il Teatro is where outdoor moments meets celebrated Italian dining. Located with a poolside view and adjacent to the amphitheater, the pared-back Trattoria-style setting, decorated with traditional encaustic tiling. Family-centric by day, it serves an à la carte menu packed with popular favorites, including pizza baked in a wood-fired oven and delicious handmade pastas.
The Grill
An elegant dinner venue, for guests and locals, The Grill is an immersive location where exceptional cuts of meat feature alongside a thoughtfully-balanced menu of global dishes. Smart interiors furnished with leather banquettes, dark-wood-lined walls and bespoke bar create a bistro-style atmosphere, that crafts a sophisticated venue. The extensive outdoor terrace seamlessly merges with the restaurant's private members club feel and offers choice outdoor dining. Knowledgeable staff are on hand to recommend select vintages from the 800-label above-ground, feature wine cellar.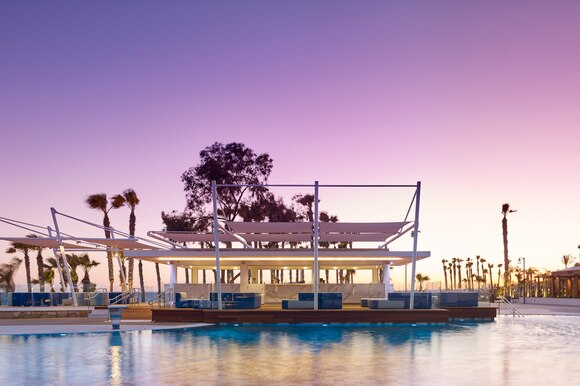 Vithos
Located between both the saltwater and Lifestyle pools, Vithos is an inspired venue that combines laid-back lunches with upscale choice. Light bites range from the buffet of fresh, seafood mezze and creative appetizers to salads and sandwiches, all of which can be enjoyed with cold Ouzo, frozen cocktails or an inventive list of wines. Flexible and casual this is where guests can lie back in the sun and order a cooling long drink from the poolside butler. Or there's the option of sitting bar-side with the Mediterranean Sea as the backdrop and soaking up the relaxed, languid setting.