St Raphael Resort & Marina *****
95 Amathus Avenue, Agios Tychon 4533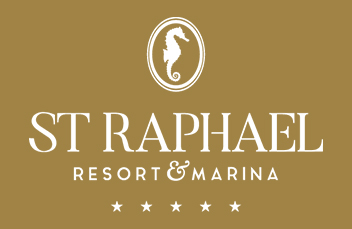 Our award winning fully renovated, 5 Star St Raphael Resort & Marina, is situated on perhaps one of the best and largest Blue Flag accredited beaches on the outskirts of the lively cosmopolitan city of Limassol. A resort which provides for a small paradise on earth, with 5 star luxury amenities and the ultra all inclusive package, promising you a comfortable and relaxing stay away from home.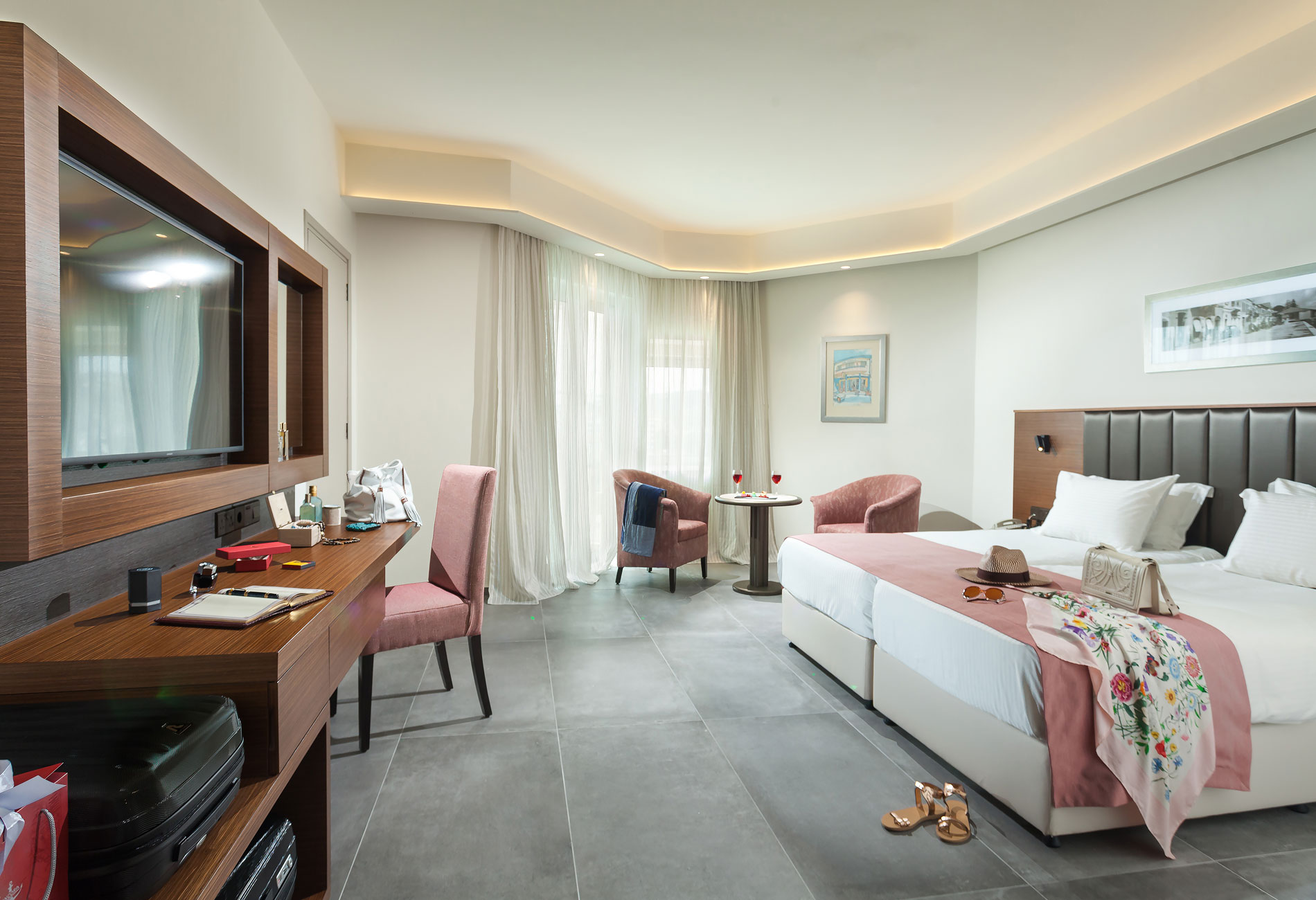 Inland View Rooms
Our stylish Inland View Hotel rooms feature all the standard amenities that the St Raphael Resort is renowned for. Our Inland View rooms are located on the north side of the main building, and are ideal and popular for couples, individuals and large families. Inland view rooms feature a spacious work area, free high speed WiFi Internet access, a cosy reading nook, seating area, and provide a 26" flat screen satellite TV for in room entertainment. Available in double or twin bed configurations, these inviting rooms are designed to provide a truly relaxing getaway.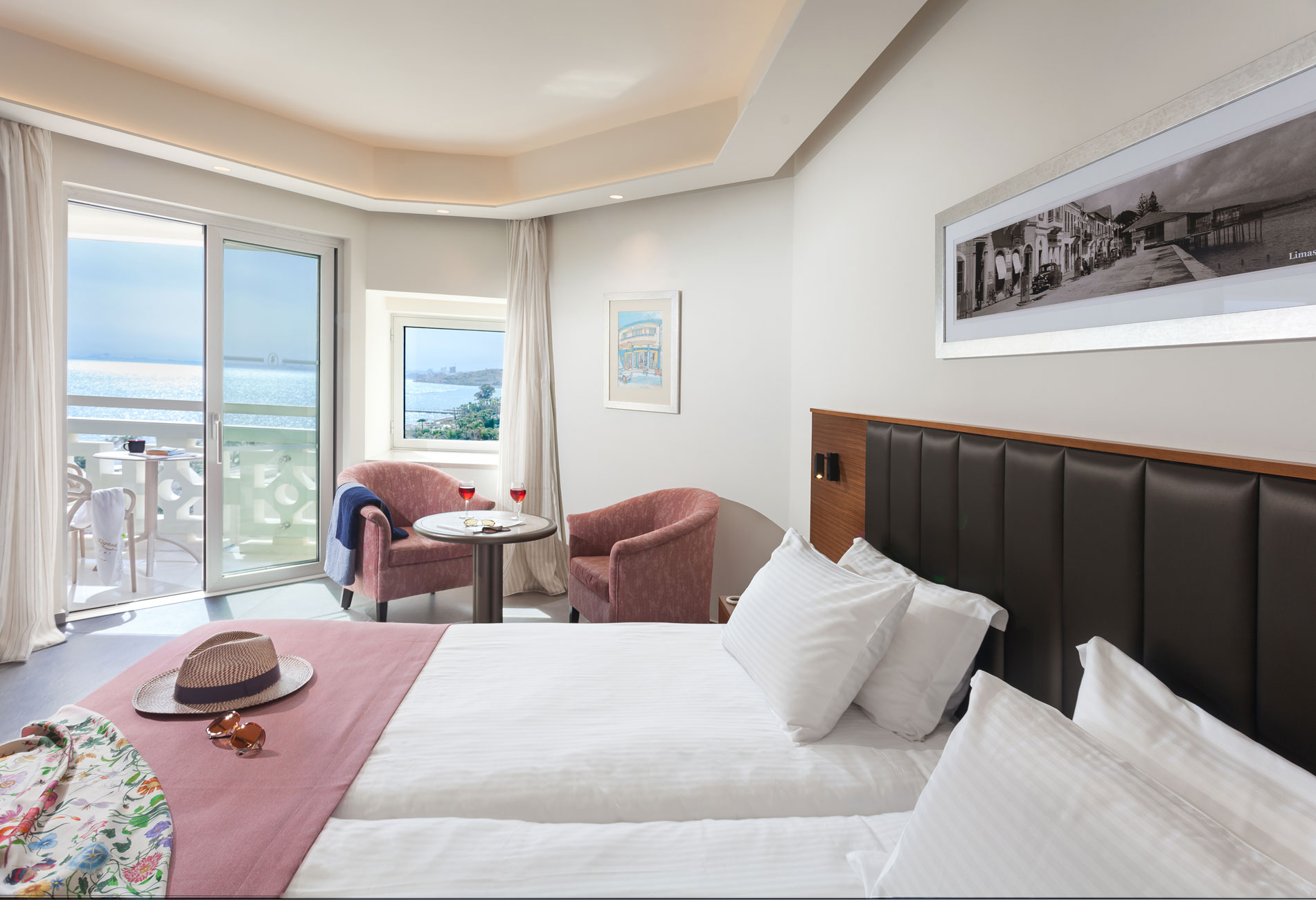 Sea View Rooms
Enjoy the sea breeze right at the private balcony of your room, and witness spectacular East or West sea views of Limassol Bay's crystal clear blue Mediterranean waters. These rooms feature double or twin beds in an elegant, stylish and spacious interior, which make these rooms a popular and sought after room category ideal for couples and young families. If you're looking for an unforgettable sea view in addition to a comfortable and relaxing stay, look no further!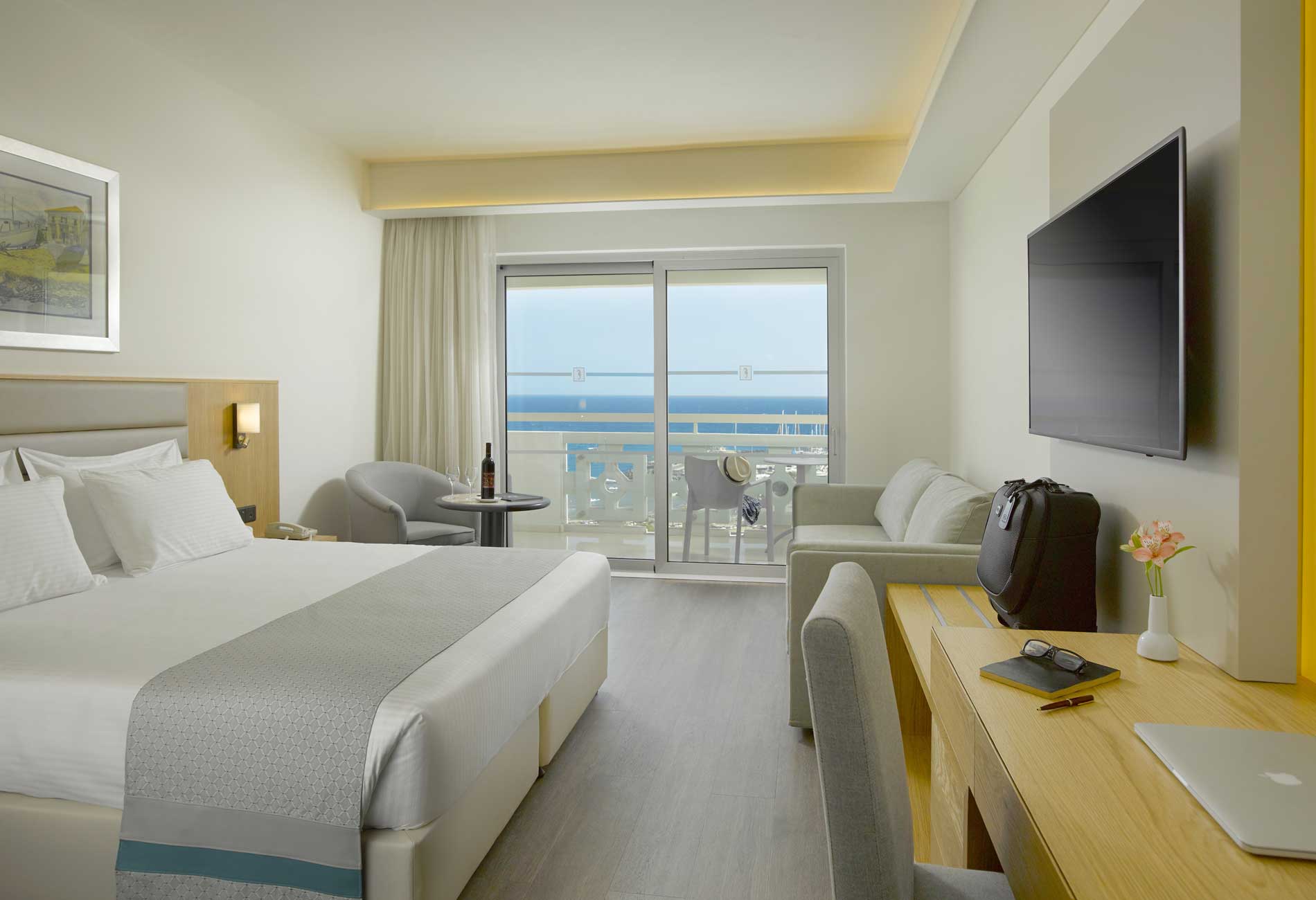 Marina View Rooms
Immerse yourself in the beauty of your surroundings with a stay in one of our unique and spacious Marina View rooms. Wake up to panoramic full frontal views of the marina and our beautiful landscaped gardens, from your large balcony and marvel at the ever changing "wallpaper" of the picturesque scenery outdoors. This popular room type is a long-time favourite and is ideal for couples or small families looking for the perfect vacation. Our bright decor compliments a spacious 27m2 room featuring both queen and twin single beds. There are 36 rooms available in this category. Free WiFi.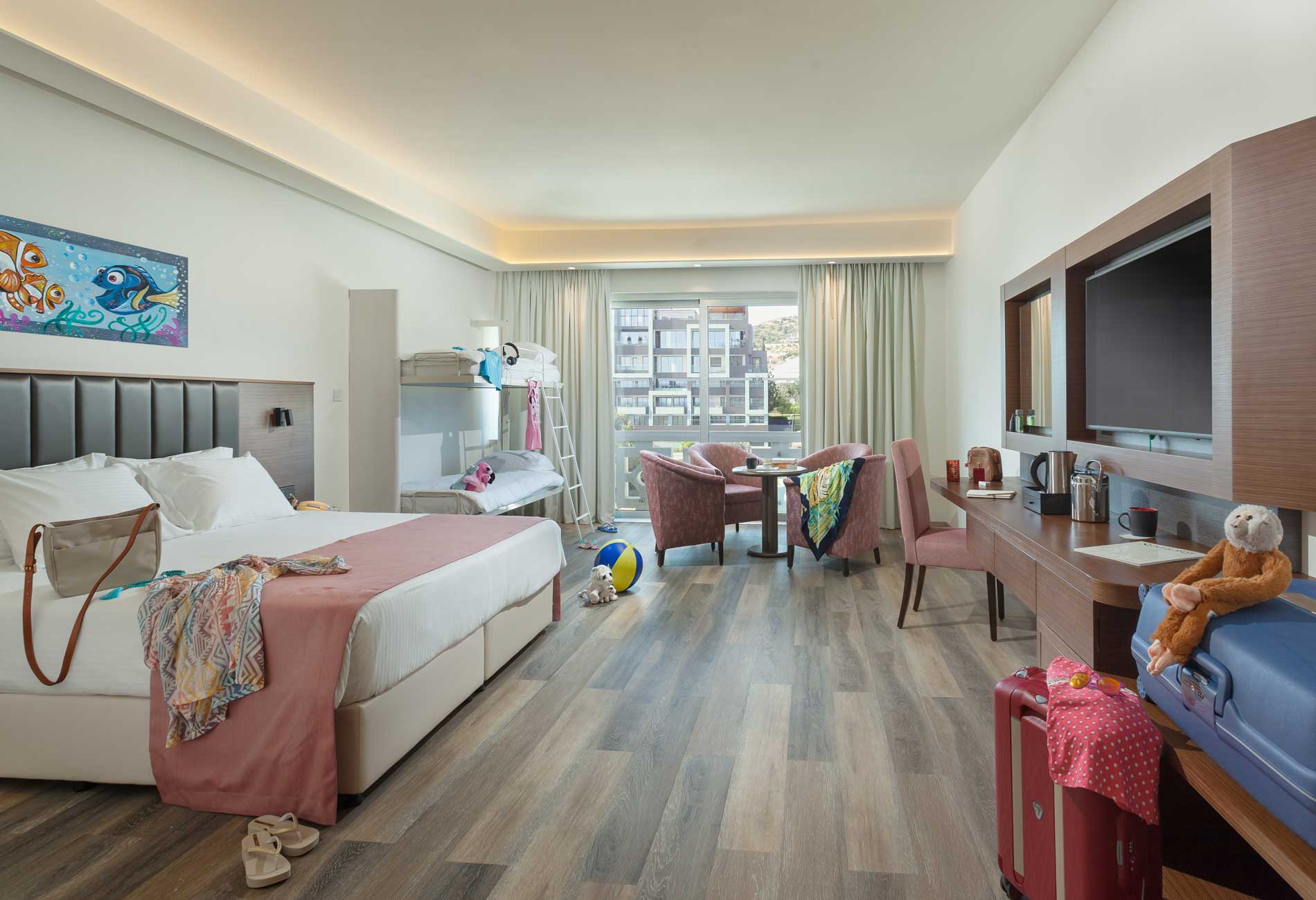 Family Inland View Rooms
This is the perfect hotel room to accommodate a large family! Relax and keep the whole family together in our spacious 35m² Family Inland View rooms on the North side of the main hotel building. Able to accommodate a large family consisting of up to two adults and three children our Family Inland View Rooms provide remarkable panoramic views of Limassol's iconic mountain range and North facing hotel gardens. Keeping your family needs in mind, Family rooms feature children's bunk beds, a spacious work area, and a seating area for families to regroup and curl up while watching Television during the hotter hours of the day. Treat your family to a well-deserved break and enjoy a relaxing start to your family holiday. These rooms do not have balconies. As there are only 12 rooms are available in this category, be sure to book ahead. Free WiFi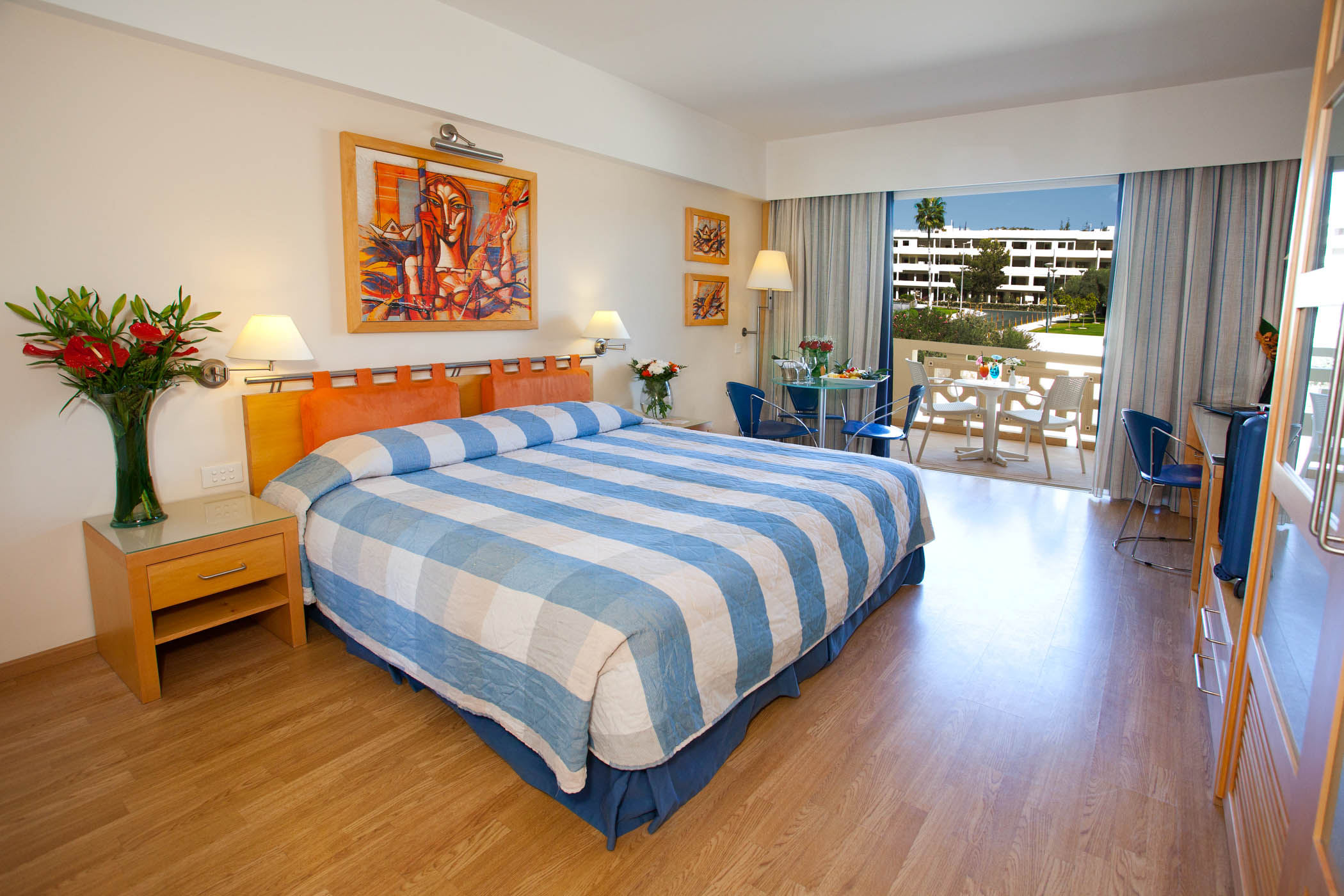 Executive Inland View Rooms
Spacious and stylish Executive rooms overlooking the mountain, including bunk beds for 2 children. The spacious rooms are decorated in a cheerful and modern tones. The sliding door separates parents and children. The bunk beds can be folded so that the room be used as a single or double executive room. Full facilities available, the room has a work area, Free WIFI. In this category are available and rooms with facilities for assisted disables. There are 21 rooms available in this category.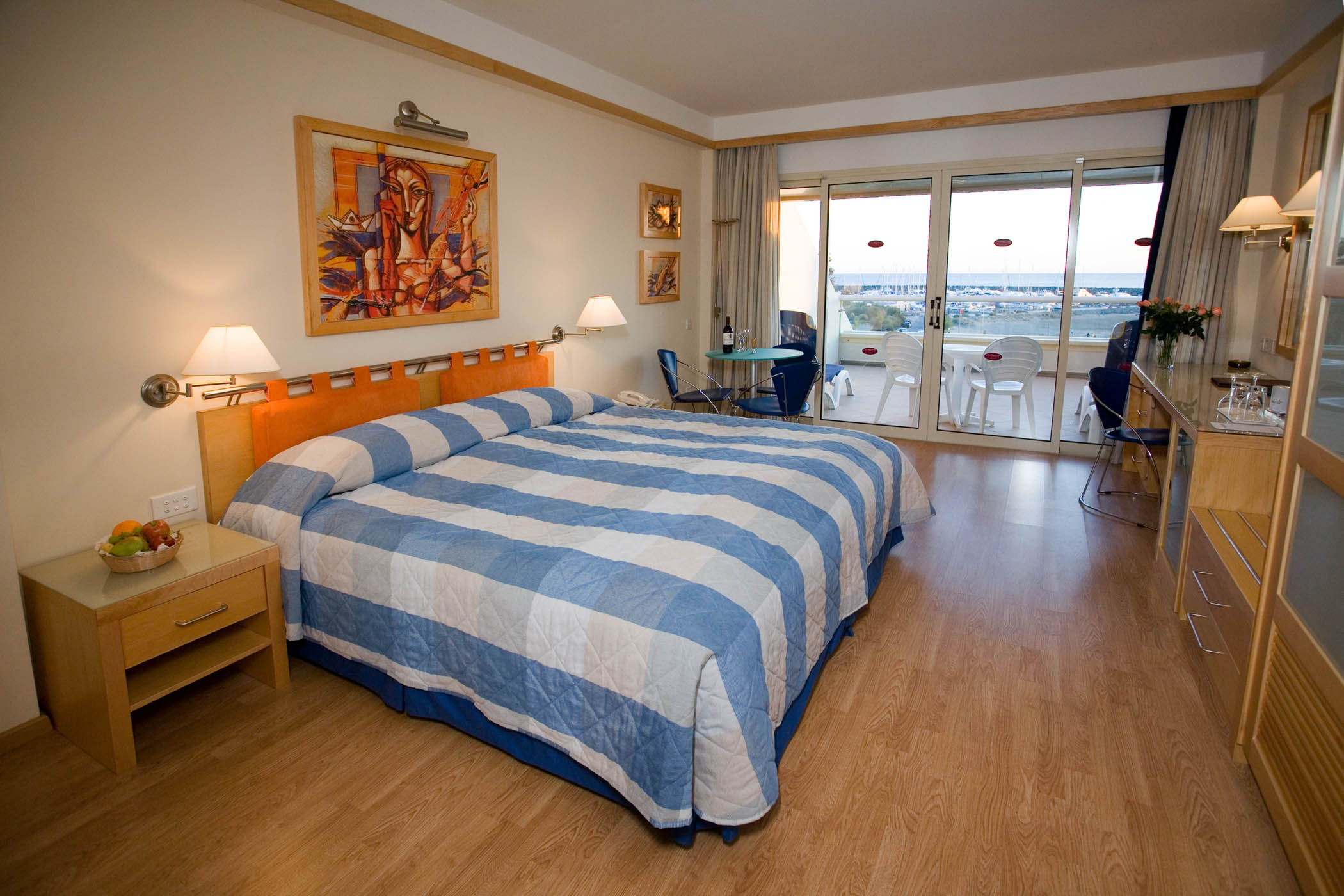 Executive Marina View Rooms
If you feel like spending a little extra and want some additional space for yourselves and your family, our spacious and stylish Executive Marina View Rooms at 37m2 in the Executive Wing, provide spectacular panoramic views of the Marina and the Hotel gardens. If you are still considering booking our Executive Marina View Room, be aware that aside from style and ample space, there is one more incredible feature that you should know about – the spectacular private terrace. Ideal for sunbathing and al fresco in room dining, the tiled terrace is equipped with two sunbeds and a beautifully laid out seating area that offers the best vantage point in the resort. Ideal for both business as well as leisure travellers with families, our Executive Marina View Rooms include all the necessities for an unforgettable stay.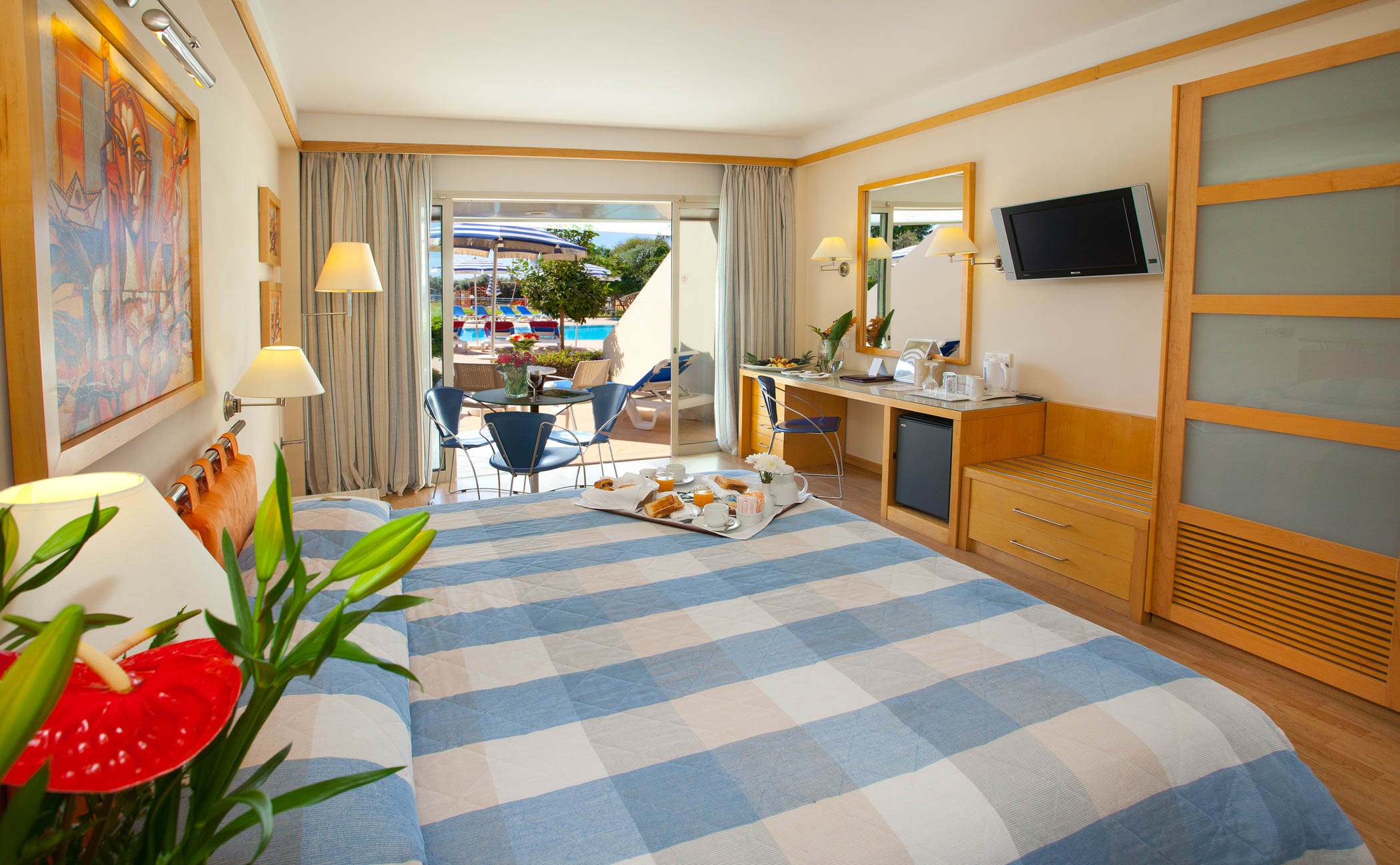 Executive Pool Level Rooms
No need to go for a long walk back to your room after a dip in the pool – lay back in your own pool side private veranda and enjoy the breeze just a few steps away from your room and within sight of the sea with our unique Executive Pool Level Rooms. Our well-appointed spacious pool level Executive Rooms (37m²) offer a perfect setting for families where children can splash around in the pool under their parent's supervision as they lounge in their private veranda soaking in the sun. Identical to the Executive Marina View Room in terms of style and amenities this room category remains in high demand and is a top seller. There are only 7 rooms available in this category.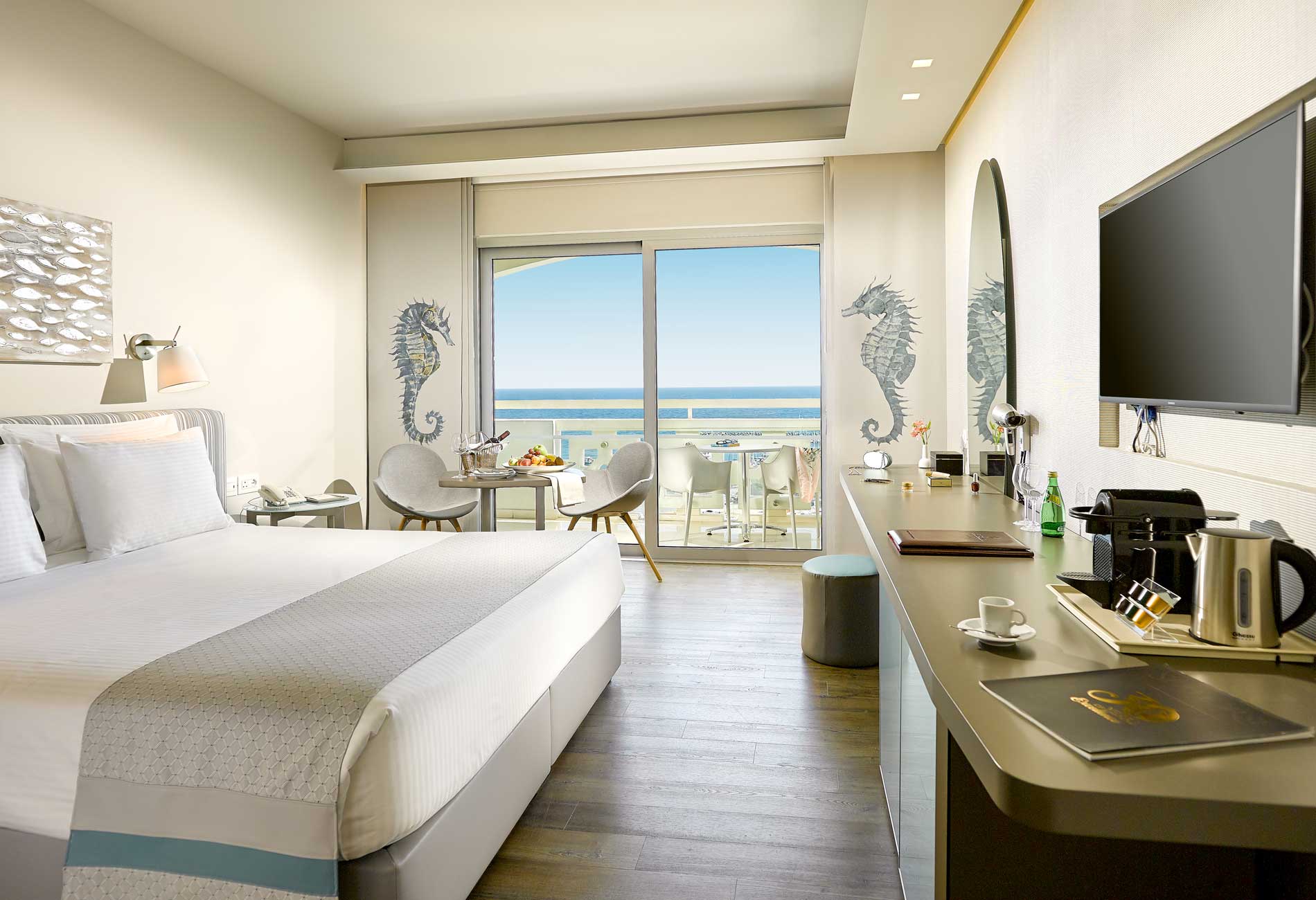 Imperial Marina View Rooms
The newly renovated Imperial Marina View rooms on the 6th floor are the ideal choice of your stay at the St Raphael Resort. Enjoy spectacular panoramic full frontal views of the marina and the beautiful landscaped gardens. The Imperial Marina View rooms are finished to high standards and are equipped with features ensuring a comfortable and luxury stay. Measuring to 27 square meters, they are equipped with one king size bed, as well as modern amenities including electric blinds, minibar, free Wi-Fi Internet access, satellite television, branded amenities and in-room safe.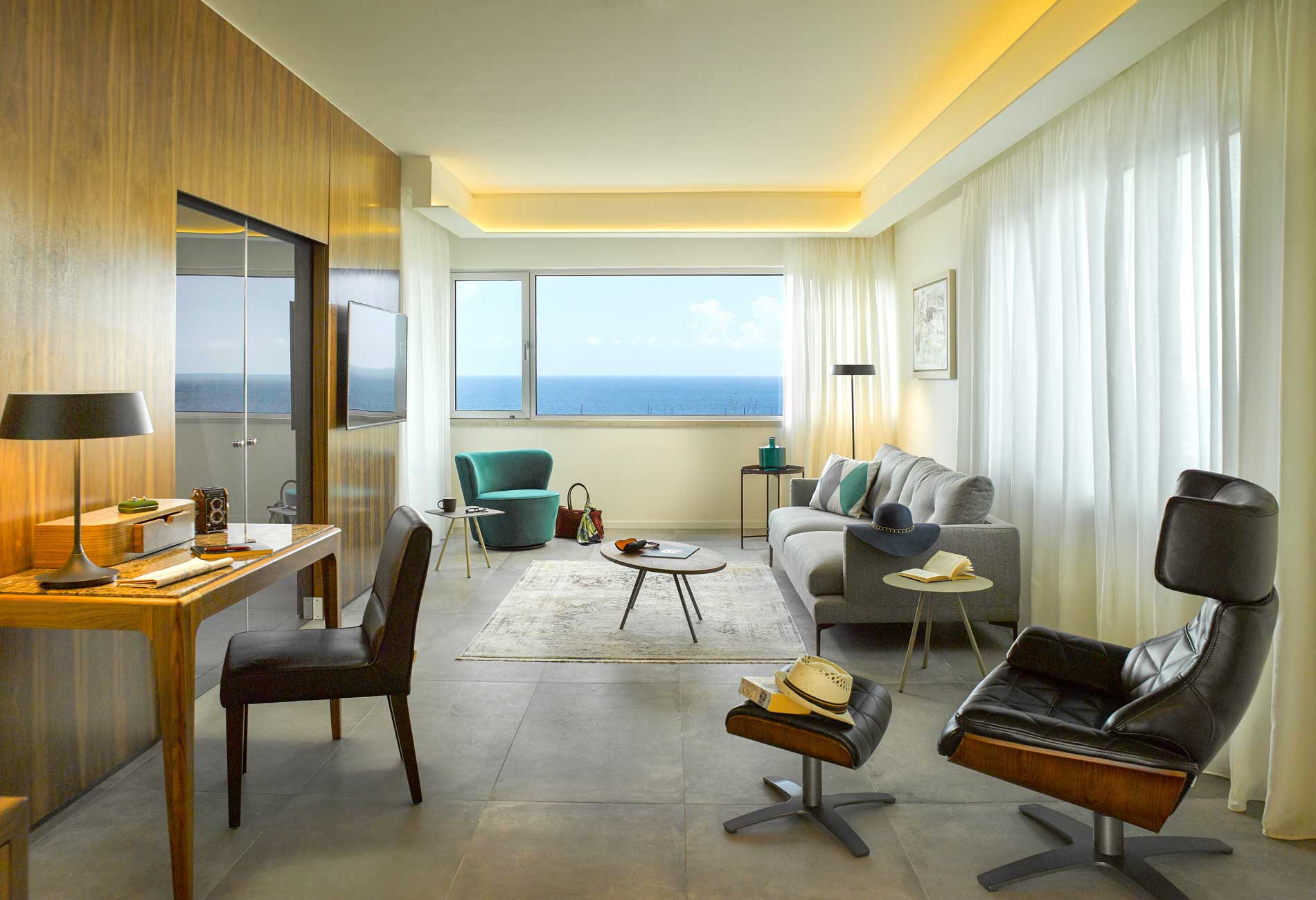 Admiral Suites
Host a small gathering in this spacious, 76m2, sea & marina view suite. The upscale Admiral Suites located on the 4th and 5th floors of the main hotel building offer unparalleled views of the iconic Limassol coastline & the Marina and are ideal for entertaining a small group of friends. Offering a separate bedroom, dining area and living room, you can entertain your guests in this spacious suite or call a business meeting in absolute privacy. Able to be interconnected with one Sea View Room and / or one Marina View Room, our Admiral Suites are ideal both for business as well as large families. 4 rooms are available in this category.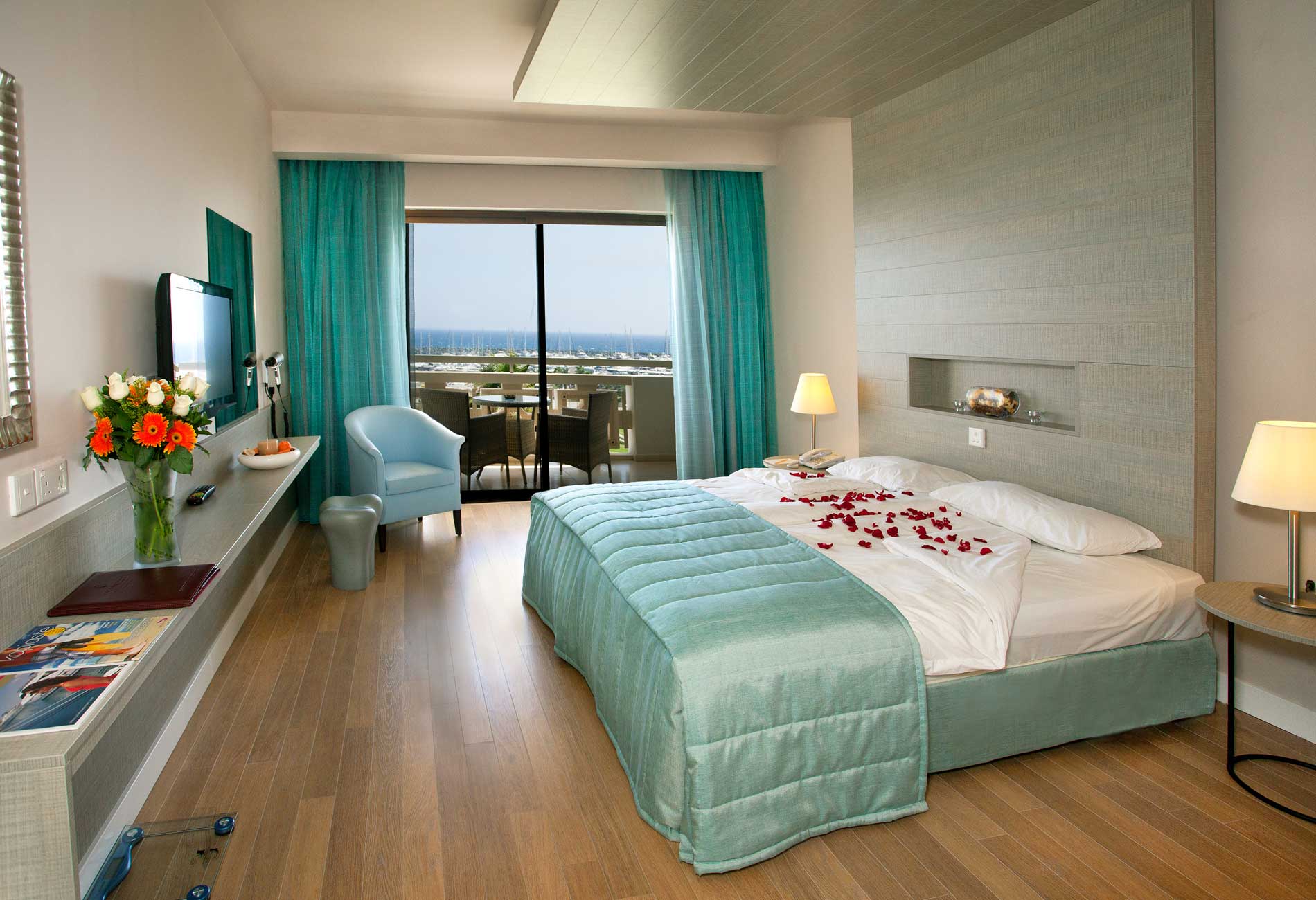 Founder's Suite
Enjoy our recently re-designed Founder's Suite, so called as this was the personal suite of the hotel owner and founder. Boasting superior design, including bathroom with Jacuzzi, Italian designer tiles and beautiful local marble fittings, a sitting room with large plasma TV and private bar area overlooking our renovated atrium lobby from in-room windows, bedroom with king size bed and specially designed furniture creating the ultimate Mediterranean Luxurious feel. The Suite also offers an Espresso Machine, coffee and tea making facilities, two mini bars, iPod docking station with CD player and radio, hidden ceiling lighting, safe box and many more modern amenities. This Suite is a favourite for wedding couples and honeymooners.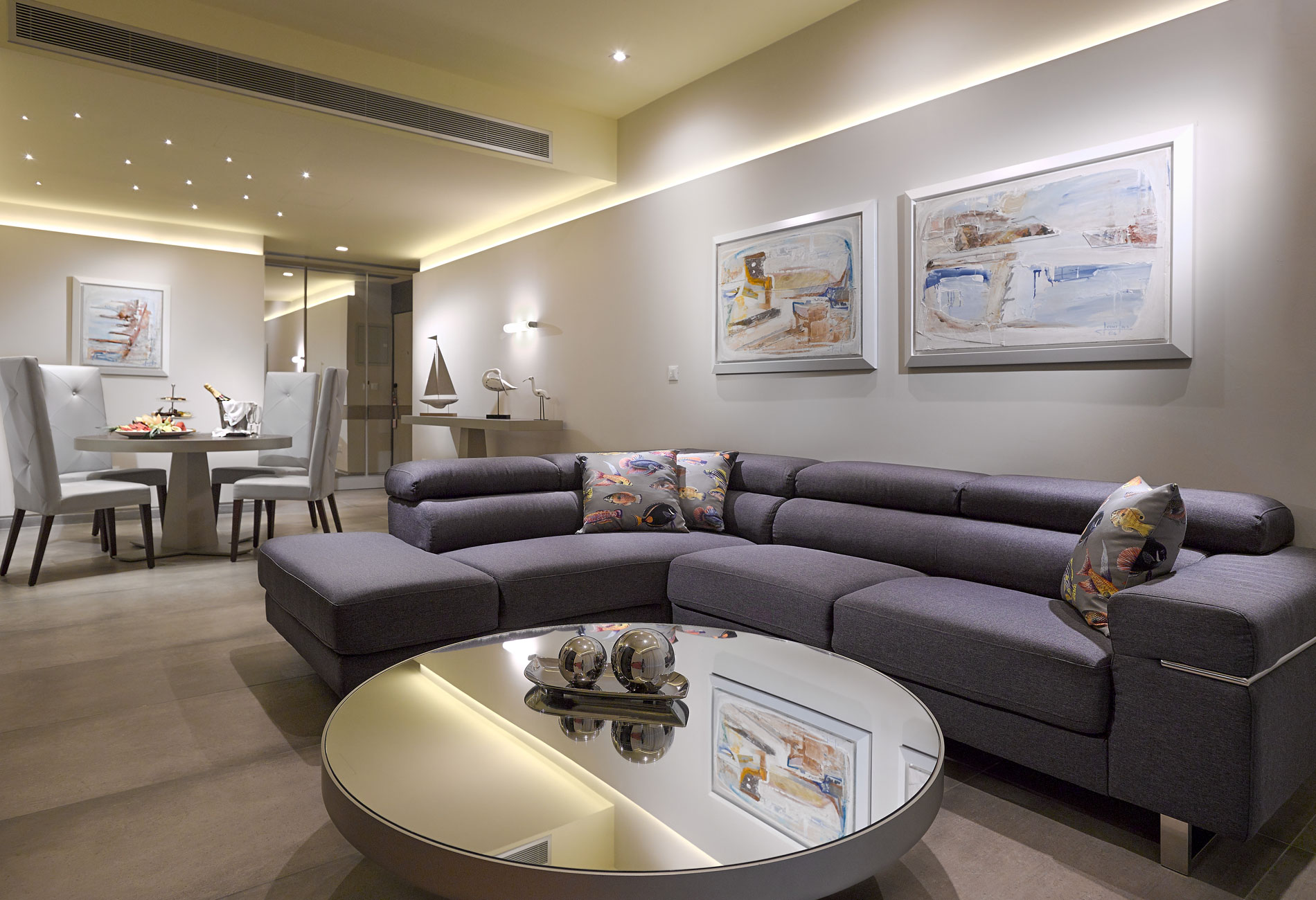 Presidential Suites
Completely renovated in 2017 with no expenses spared, these modern and spacious suites (only two available) provide every modern comfort and luxury. A king size bed (180 cm x 200 cm) looks over the side glorious views of the hotel which incorporates the mountainous backdrop against Limassol's beautiful bay. A luxurious free standing signature bathtub is incorporated into the room along with a large rain shower cubicle, separated wc, two washbasins and contemporary lighting features. The lounge has its own WC and a second TV which can be viewed from either the dining area or the comfortable designer sofa, while overlooking the blue azure of the Mediterranean.

Sailor's Rest
Watch breath-taking sunsets over the sea at Sailor's Rest Lounge Bar & Restaurant, open daily from 10:00hrs till late. Situated in the unique location in the heart of the St Raphael Marina, the award winning restaurant serves an array of à la carte gourmet dining options with fresh fish, meats, salads and pasta, not to mention mouth-watering desserts and ice-creams that are available throughout the day.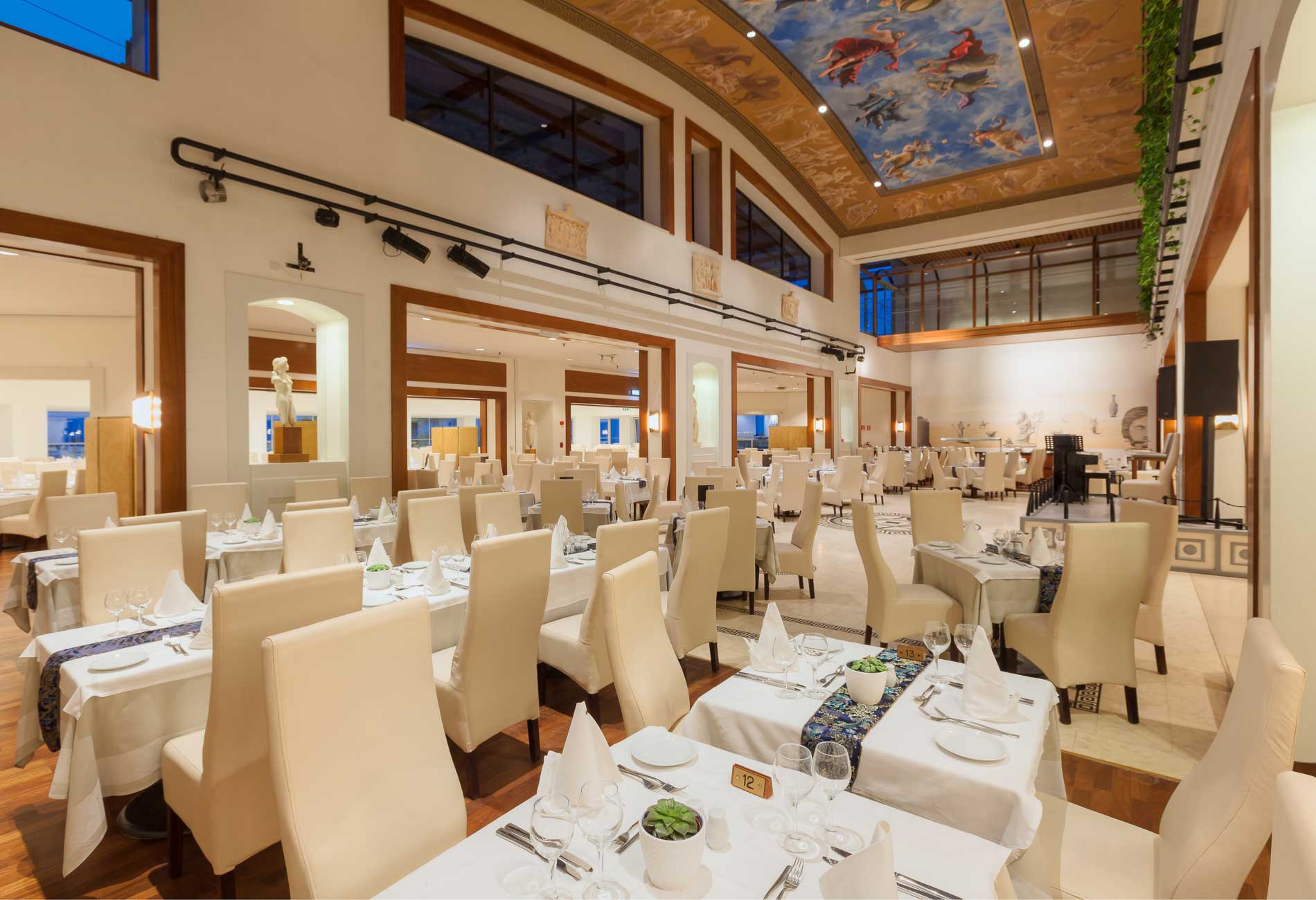 Palladium Restaurant
The Palladium boasts high ceilings which are hand-painted with the twelve Ancient Greek gods and offer breath-taking views of the sea and the St Raphael Marina. The restaurant is dressed up in a warm colour scheme and a signature contemporary touch, offering intimate dining set-ups within open spaces.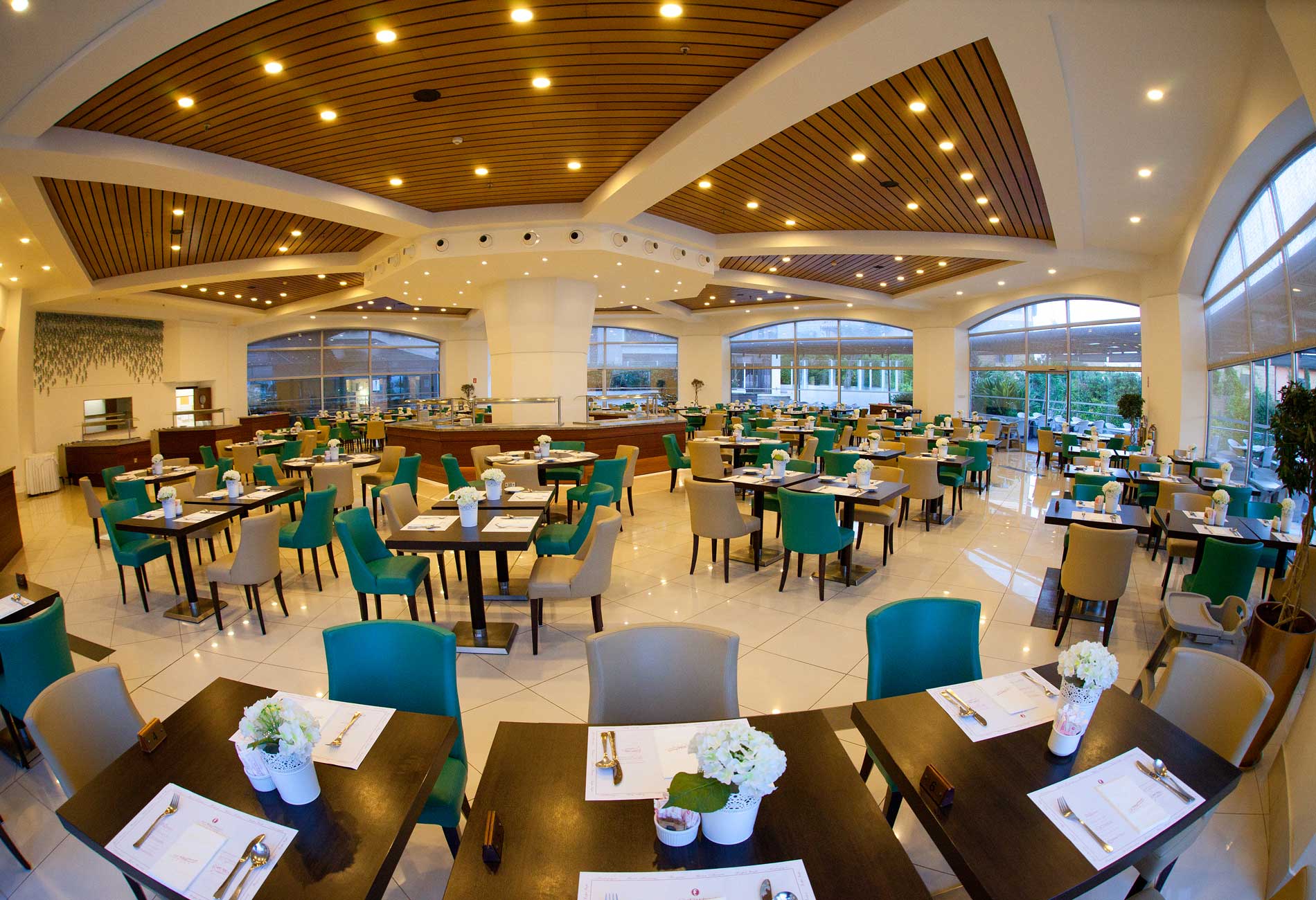 Octagon Restaurant
Enjoy authentic, Mediterranean cuisine at the St Raphael Resort's Octagon Restaurant. Equally popular among locals and guests of the St. Raphael Resort, Octagon has a menu that is continuously evolving to incorporate the wondrous diversity of both Cypriot and International cuisines. Throughout the year, Octagon guests are provided with a variety of specialty breakfast and lunch buffets that can truly satisfy any appetite.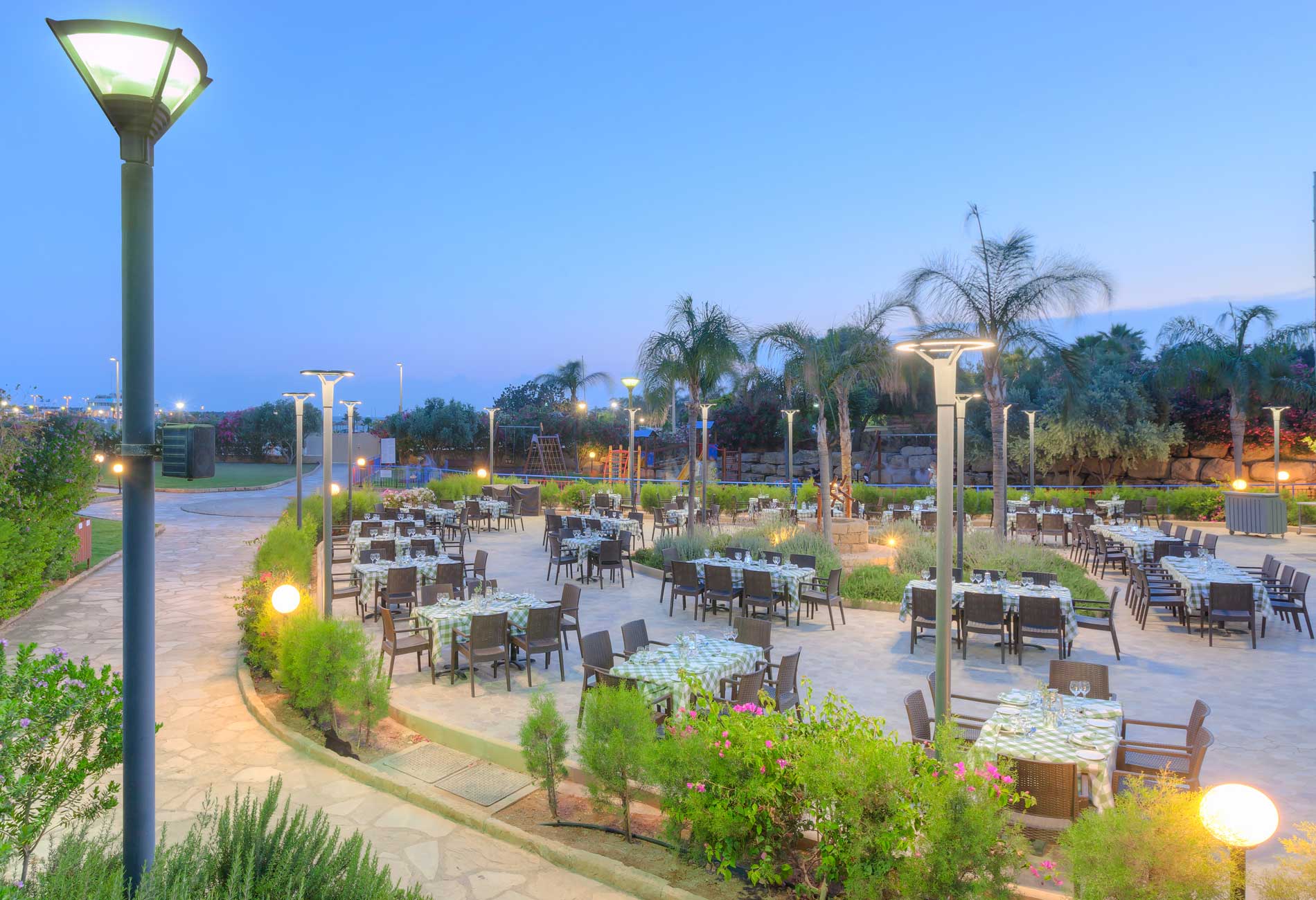 Alakati Restaurant
Spend the evening dining Al fresco under the stars while enjoying some of Cyprus's finest culinary treats. Situated in the hotel gardens with a beautiful old stoned water well (alakati) set in the heart of the restaurant.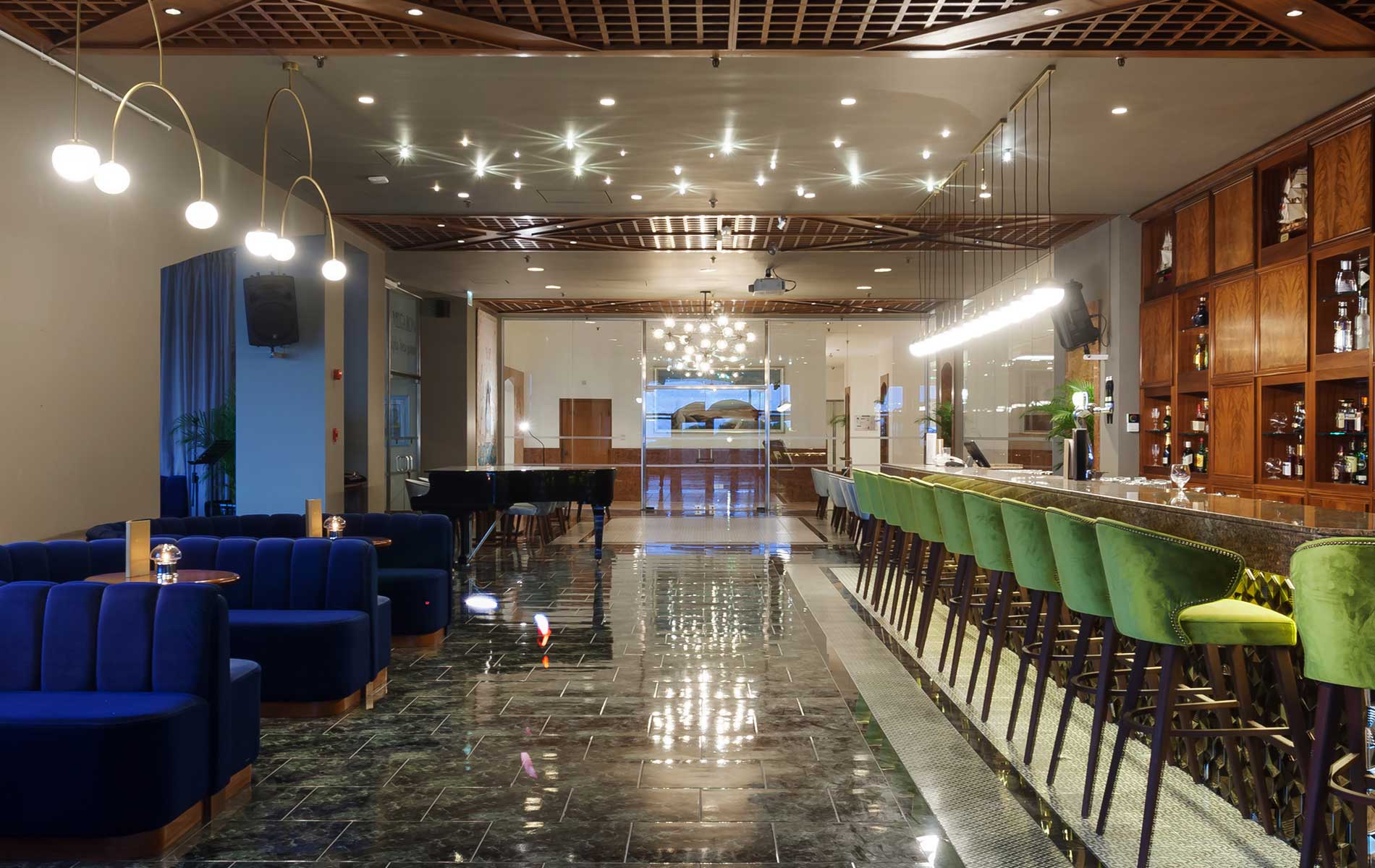 Captain's Bar and Terrace
Whether enjoying a light drink or snack inside with friends, or seated on the covered panoramic wooden decked terrace overlooking breath-taking views of Limassol Bay and the Marina, the Captains Bar is the perfect setting for intimate gatherings. Our popular Captain's Bar has its own wooden decked terrace overlooking the hotel's beautifully kept landscaped gardens, where our guests can enjoy our interesting cocktail favourites and absorb the breath-taking views of the Mediterranean Sea.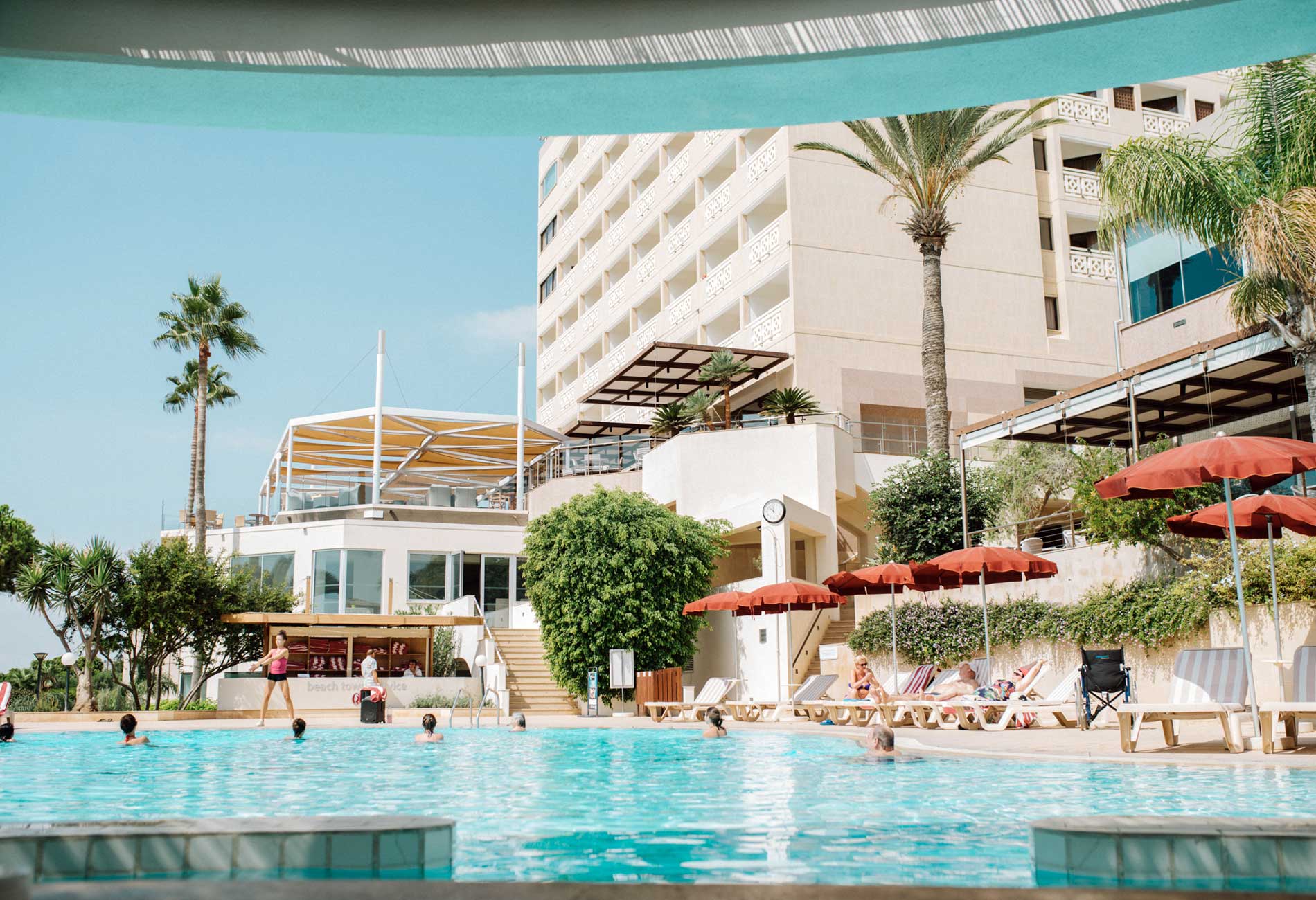 Amphibion Pool Bar
Lounge around at one of Limassol's most beloved poolside bars open daily from 10:00hrs to 18:00hrs. An icon synonymous with summer memories at St Raphael, swim up to the bar and order from a wide variety of drinks and cocktails while enjoying the warm Mediterranean sun. Enjoy a fresh, creative cocktail while lounging poolside.
Serenity Spa at St Raphael Resort and Marina believes firmly in sustainability. We want to support our local heritage, culture, nature, traditions and people. Our staff are carefully selected and trained to the highest standards, in doing so we do not only offer the best customer service, but also create the best team spirit and the best balance of expertise.
We want to offer all our customers, hotel guests, members and locals alike with the best of Cyprus: friendly service, Impeccable treatments and local products with pure nature being at the heart of our philosophy. Not only are none of the products, we choose to work with, tested on animals, but where possible they have been certified vegan and are from organic and natural sources. Furthermore, all products we work with are from companies that firmly stand for the environment, their local people and neighbors, and promoting natural, pure ingredients.
We have no doubt that you, our valued and most special guests, will enjoy every part of your experience at our award wining spa. We look forward to welcoming you as part of the 'Serenity Spa' family and will be delighted to help you in any part of your spa journey from selecting a treatment, tailor-making a package just for you and in advising on "after spa" programmes.