Piere Anne Hotel **
95 Amathus Avenue, Agios Tychon 4533
Piere-Anne has an excellent location. The hotel is right on the beach and is a relaxing holiday destination, offering its customers the opportunity to have all just a short walk away, as well as the luxury of enjoying a quiet afternoon and / or evening with a breathtaking view of the Mediterranean sea without the hustle and noise of the city.
Ten acres of gardens the hotel has direct access to the sandy / rocky beach, spectacular views of the clear waters of the Mediterranean Sea and along the path pobrezhya that leads to the sandy beaches of Ayia Napa, the harbor and park sculptures. The hotel is in close proximity to the lively center of Ayia Napa and it is ideal for enjoying the lively nightlife in the local clubs and bars, as well as for visiting the numerous family activities, such as festivals, organized by the Municipality of Ayia Napa, the Maritime Museum "Thalassa "and the monastery of the 15th century.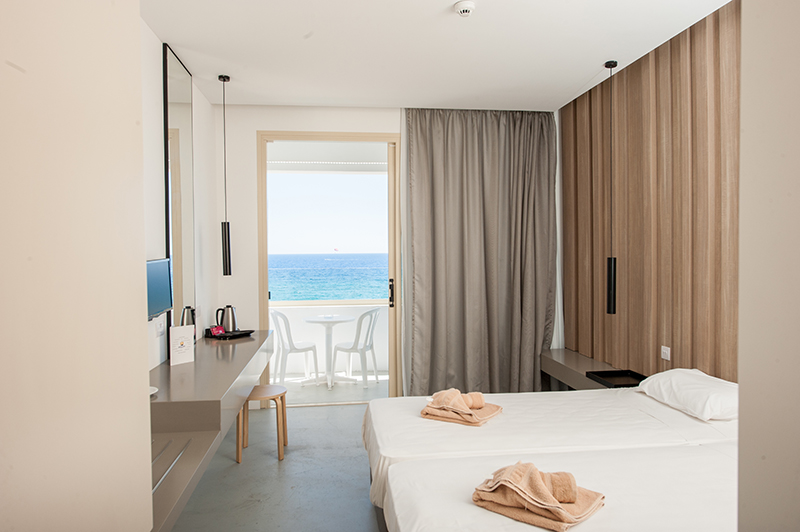 Sea View Room
Guests enjoy breathtaking views of the Mediterranean Sea and the coastline.
The private balconies equipped with table and chairs welcome guests to unwind in undistracted view of the Mediterranean Sea
Side Sea and Pool View Room
Side Sea and Pool View Rooms enjoy a view to the swimming pool and side sea view.
Inland View Rooms
The rooms are located in the main building of the hotel and offer views of Ayia Napa and the Luna Park.