Lordos Beach Hotel ****
95 Amathus Avenue, Agios Tychon 4533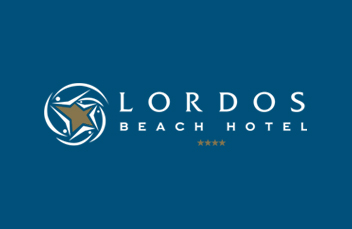 Where the sunshine is everlasting, and the sea a Mediterranean blue, to a smile as warm and welcoming as the sun itself. Surround yourself in a truly unique environment of exquisite flowers and cool waterscapes. Here your every request is granted with pleasure. Set in a location that gently unites land with sea. The Lordos Beach Hotel ranks among the most prestigious hotels on the island. This, coupled with service that is as discreet as it is attentive, makes this hotel the natural holiday choice. A place where visitors return time and time again to a warm welcome.
Classic Side Sea View Room
Traditionally inspired style in Mediterranean infusion; the warm and cozy atmosphere of the room, demonstrates our
unique hospitality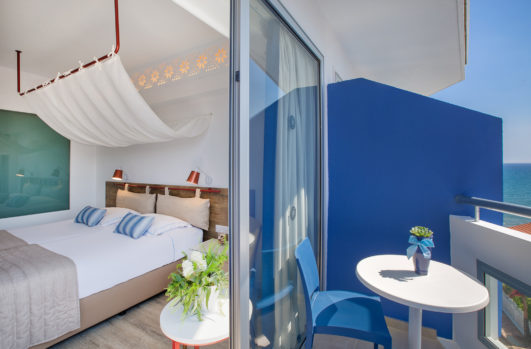 Superior Side Sea View Room
Inspired from traditional textiles and translated into a contemporary design, the Superior room exudes the warmth of our heritage.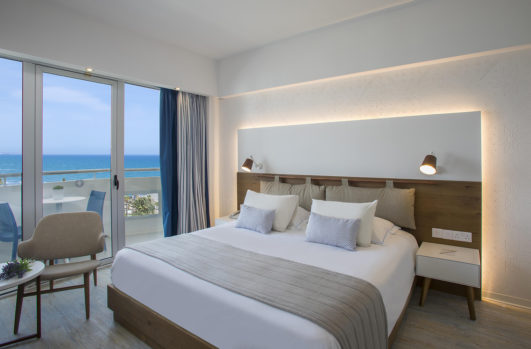 Premium Superior Side Sea view Room
Our Premium Superior rooms are modernly designed, each one with a distinct personality; offering a high class
comfort and outstanding views of the Mediterranean. Premium Superior rooms indulge guests with Free Coffee and
Tea facilities and luxurious Bathrobes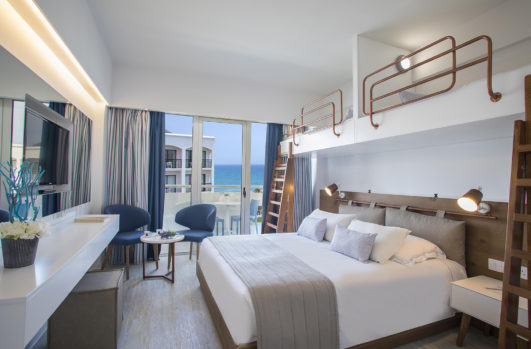 Family Room
Playful and modern design, with a familial and cozy atmosphere, the Family Rooms are as unique as the memories they will create.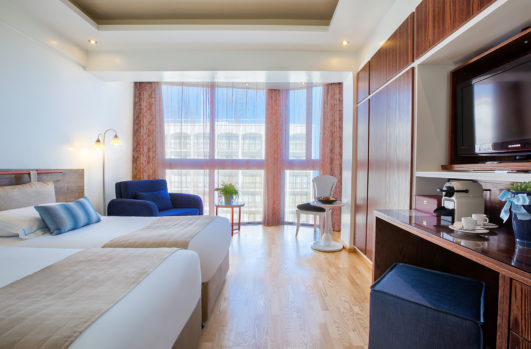 Family Suite
Along the playful and modern design inspired by our traditional Mediterranean, heritage with two bedroom one bath
suites in the perfect choice for family holidays.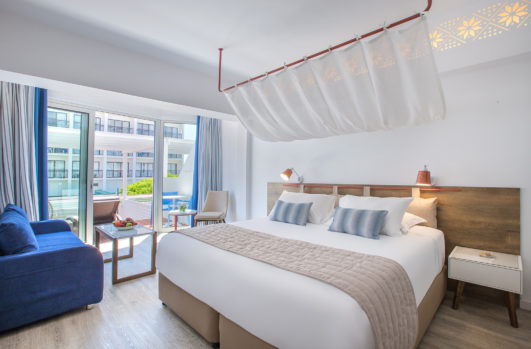 Junior Family Suites side sea view with Private terrace
Family moments are the treasures that lie in our hearts and become the strengths that follow our dreams throughout
our life. Our Family Suites with their private outdoor sitting and shared terrace garden, were designed simply for those special moments and those childhood memories that will last a lifetime.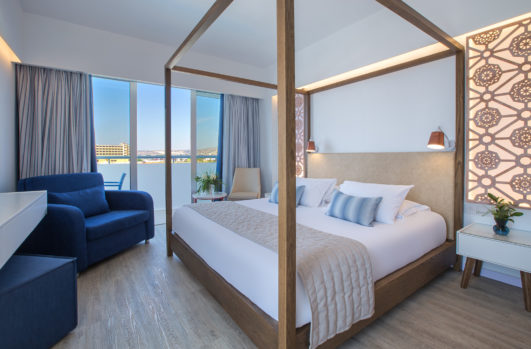 Front Sea View Room
Traditional symmetry with aerial infusion on a Mediterranean pallet; the Front Sea View Rooms are simply breathtaking.
Junior Suite Sea View with private Jacuzzi
Cozy and elegant, following our Traditional Mediterranean infused style; these rooms with their private deck and Jacuzzi give a taste of paradise.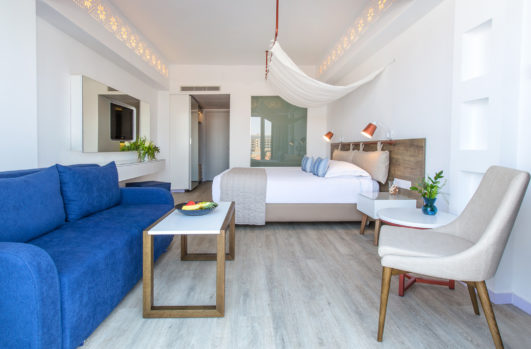 Mini Suite
Our 4 extraordinary Mini Suites offer a taste of holiday luxury, with their private garden and wood decking which
leads down to two shared Jacuzzis; Sun loungers and outdoor seating, allow guests to enjoy stunning views of the
Mediterranean and relax in the comfort of their suite.
Inside, an elegant and modern interior combines a soothing palette of colours, providing a relaxing ambiance as well as a comfortable living area.
Honeymoon Suite
Separate sleeping and living areas in Modern blue hues offer the luxury and comfort that a wedding couple deserves for their special days.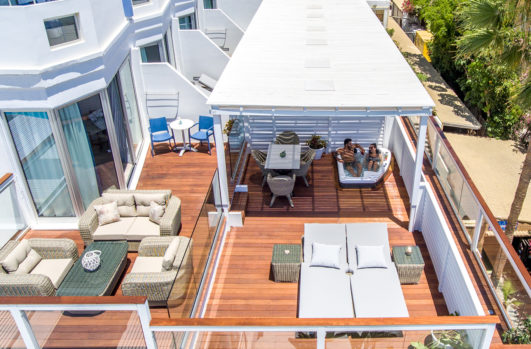 Panoramic Suite
The unity of Mediterranean natural beauty of earth and sea with its star-filled sky, the Panoramic Suite is the dream brought to reality. This private suite with its large terrace and Jacuzzi is the perfectly designed for those who wish to live in full the beauty of the Mediterranean.
Grand Suites
Our Grand Suite emanates the essence of tranquility with its traditionally inspired design and modern execution; this spacious and modern Suite, large private salon and terrace with Jacuzzi, is the epitome of a luxurious and romantic getaway.
Atlantis Restaurant
Opening to a covered poolside patio, the Atlantis Restaurant is the perfect place to relax and enjoy breakfast, lunch or a snack during the day. The buffet style breakfast offers a variety of choices from a full english or continental breakfast to a wide selection of cereals, fresh fruit and low-fat options. The lunch menu has a focus on simple, light preparations such as salads, pasta and grilled items. The recently introduced 'Healthy Menu' has a broad and interesting selection of dishes for vegetarians and the health conscious. The sunny décor along with a view of the pools and garden, combined with the excellent food offered, make any meal a relaxing and enjoyable occasion.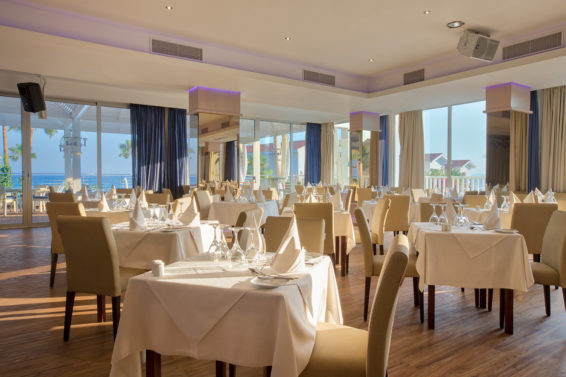 Oceanis Restaurant
Named after its stunning views of the Larnaca Bay, the Oceanis Restaurant is the formal evening restaurant of the hotel, offering à la carte, table d'hôte and themed buffet menus. Elegantly appointed classic decor of mahogany panelling and period brass fittings, the restaurant enjoys breathtaking views of the Mediterranean. The à la carte menu has an extensive variety, from local Cypriot dishes to Classic French and International cuisine. A rich and varied buffet and theme nights take your taste buds around the world, whilst a well balanced wine cellar with fine Cypriot and European wines and service par excellence completes the dining experience. The combination of elegant decor, excellent food and service from our friendly and attentive staff will ensure a wonderful meal, whether you are dining with business associates or enjoying a romantic dinner for two.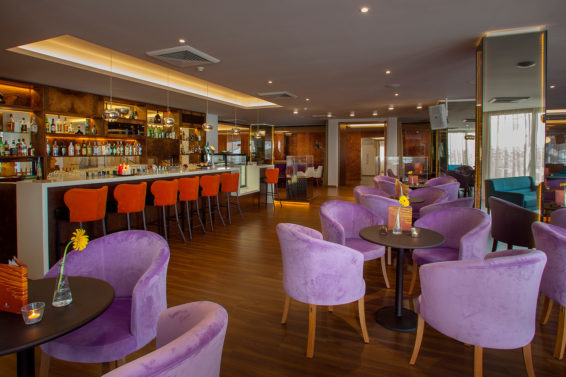 Sirens Bar
The Sirens lounge bar has that special warm atmosphere and a bartender who never forgets a face, or your favourite drink! A cosy and welcoming atmosphere awaits you where you can enjoy an afternoon tea, pre-dinner cocktails or after dinner drinks. Relax, or be entertained by the live music from our resident musicians every night and various exciting shows in the summer season.
Recently renovated to cater to the exquisite needs of our residents, the Ether Wellness & Spa is an intimate retreat, a haven of comfort designed to relax your mind and body. Our treatments and therapies are customized to elevate your spa experience, whether you decide to go for the individual treatments or opt for our couples' sessions! Envelop yourself into the care of our professional massage therapists and let us take the stress away, giving you an unparalleled experience.